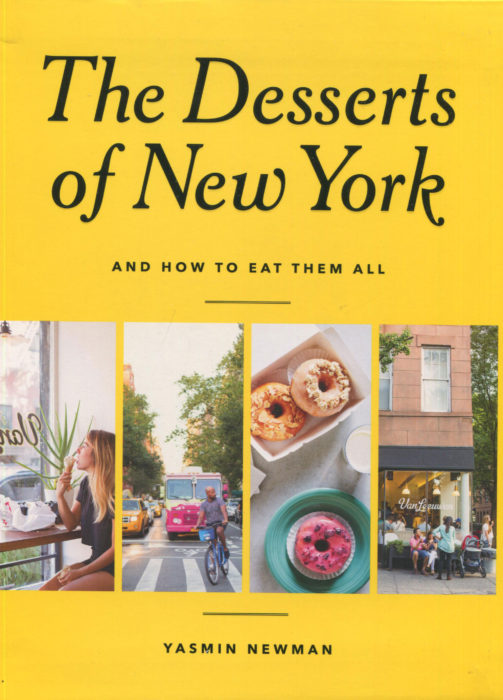 Oh, author Yasmin Newman is deadly serious. You are going to eat them all. Or try.
Lordy, what a book. I can't imagine all the effort expended, but I'm sure Yasmin had fun. She has walked the city, surveyed countless sweet spots, and now has documented the best of the world of New York City desserts. Her survey is presented two ways:
By neighborhood
By dessert types
The neighborhoods are largely in Manhattan, but include five in Brooklyn. There are eighteen in Manhattan, including my home Tribeca neighborhood with brilliant bakeries like Arcade. Whether you are on the East Side, the West Side, Midtown, NoHo, SoHo, Nolita, or the Villages, you can turn to this book and find someplace that you will want to visit. And visit. And visit.
The primary organization here is by dessert types. There are chapters for
Doughnut, Cookies +  Bars
Pastries, Buns + Bites
Cakes, Pies, + Puddings
Ice Cream + Drinks
Plated + Created [places where you want to sit and indulge, not take it home]
Each chapter is filled with ideas from the best dessert and sweet spots in the city. What's wonderful is that each chapter ends with a two, or three, or four-page list of all spots mentioned in that chapter. It's something you want to photograph and keep on your iPhone as you wander the city — assuming you don't want to lug the book around. I rather think I will do that lugging. You know. It's a way to counter the calories!
And, there's a big bonus here. As you slide through the chapters, you get recipes, some the originals from the establishments, some Yasmin's sugary interpretations. You'll find Bouchon Bakery's upscale recipe for the Oreo cookie. That Luxe Oreo is a life-changing experience.
From the important Mexican restaurant Cosme you can make their Corn Husk Meringue with Corn Mousse.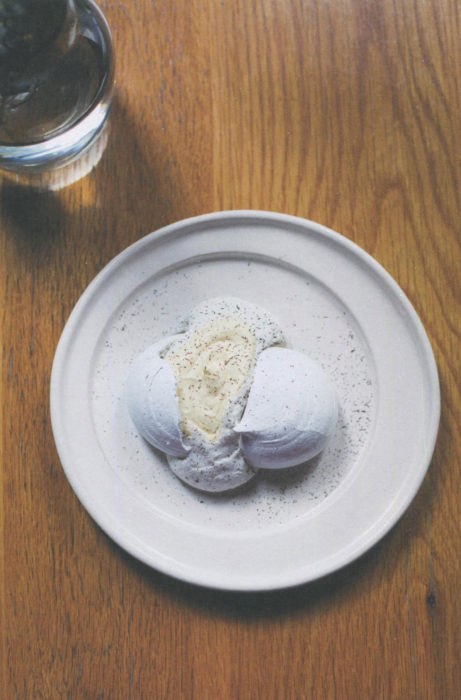 Other ideas conveyed with charm here include:
Café Au Lait Doughnut

Tres Leches Cake Balls

Whisky Walnut Babka

Sadelle's Sticky Buns

Carrot Cake Macarons

Brooklyn Blackout Cake [another try at the lost Ebinger's recipe]

Boozy Blueberry, Blackberry and Rye Pie

Kouign Aman Bread Pudding

Sparkling Blood Orange Sorbet Float
If you are walking in New York, you want your wallet, your phone and your copy of The Desserts of New York. You really, really do.