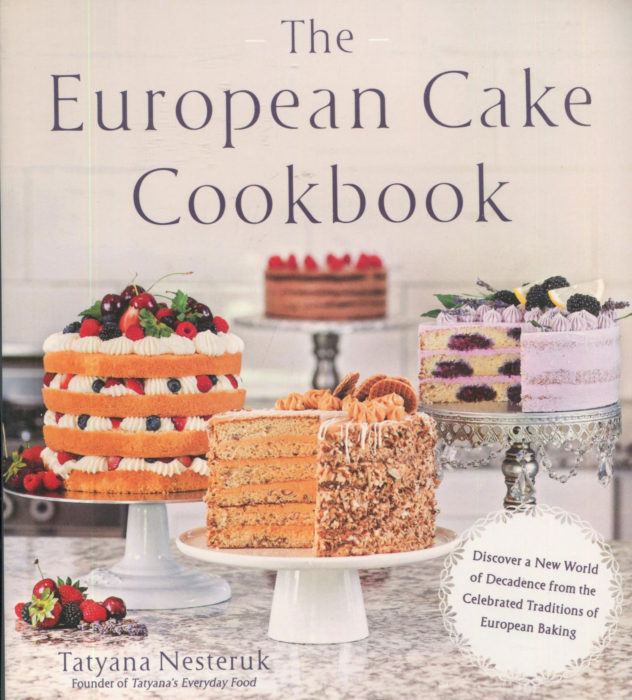 There are times when words fail. I don't know how to do justice to this fantastic cookbook. Just look at this Chocolate Hazelnut Crepe Cake: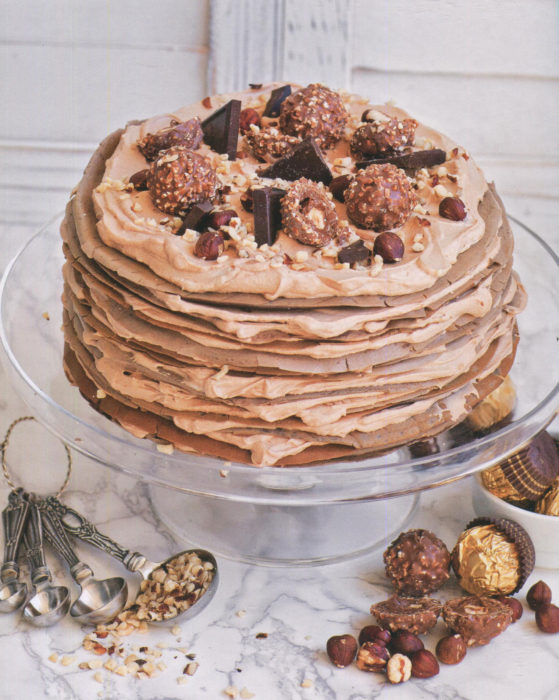 Author Tatyana Nesteruk was born in the Ukraine but grew up in Italy. She fell in love with baking and has never fallen out of love. She's now a food writer living in Sacramento, California and generously educating all of us about the grandeur and richness of European baking. There are both classic recipes here and Tatyana's own interpretations of cake art and fantasy.
When I think of cake, really exceptional cake, I remember a little bakery in San Diego run by a couple from Budapest. It was sublime. That bakery is gone. The couple divorced. The memory of the banana roulade cannot be erased. European baking at its supreme.
Classical desserts of distinction populate the streets, villages and cities of Europe. All over the vastness of Europe— which generates the diversity this book happily captures. That is why there are five chapters here reflecting the culinary geography of European cakeland:
Eastern Delights: Marshmallow-Filled Delights, Slavic Favorites
Western Delicacies: Mousse Cakes, Crepe Cakes
Southern Delicacies: Cheese and Fruit and Citrus
Central Indulgences: Bundt Cakes and Creamy Bavarian Sweets
Northern Treats: Buttery Pound Cakes, Tender Lemon Treats
Thank God that each of these cakes comes with full page, deep color photograph. Each recipe shines with distinction, the craftsmanship on display, and I need those pictures to decide which cakes to make first. Yeah, the Crepe Cake is at the top of the list, but there are also:
Strawberry Honey Cake [15 layers!]

Lemon Lavender Blackberry Cake

Apricot Mousse Cake

Chocolate Mint Mousse Cake

Chocolate Kiev Cake [14 layers + frosting]

Paris Opera Cake [a mere 11 layers + frosting]
There are layers of frostings and fillings and mousse oozing across the pages of this book. You'll probably put on a pound just reading the book. That's ok. That's why you have a gym membership. Seriously, these are very rich, decadent cakes. There is a pound cake or two, but I rather imagine your eyes will first be drawn to mousse and frosting.
Can you make these? Yes. That picture is a vital blueprint. You can see your endpoint and have confidence that the glory can be achieved. The recipes come in4-10 steps. So some cakes are more complex and some are ones you can tackle with ease. Each step is just one or two sentences. The writing is direct and clear. You won't get lost, you won't be confused. And you'll be expertly guided to cake success.
There are 70 recipes here. I find each one tempting and I suspect that, no matter which one or ones you pick, cake delight is yours to discover.
The European Cake Cookbook is beautiful, important, and sure to please.