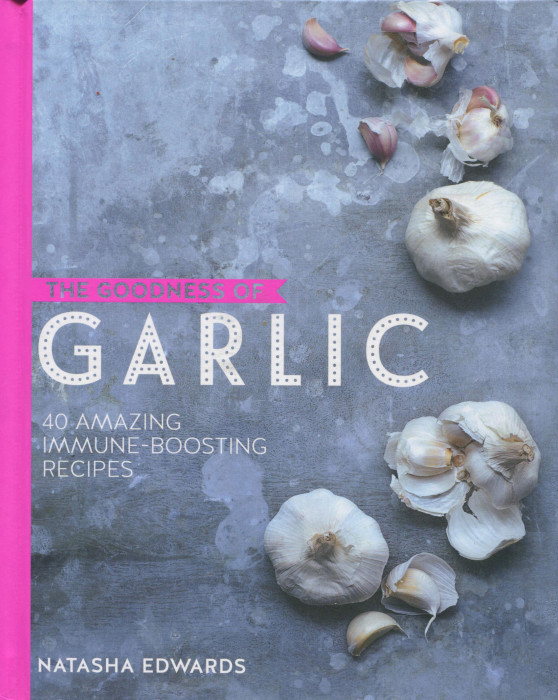 Sometimes old friends can be hard to find. There's a recipe you remember from last month, last year, the last century. A recipe with a very specific ingredient, say garlic. But where is that recipe now? It was a good recipe. A best recipe and now …
Kyle Books is a British high end publisher of wonderful cookbooks. They have a new series: The Goodness of. And the first one in this series is The Goodness of Garlic by Natasha Edwards. It's a slim book, less than a hundred pages with chapters for everything. Well, not everything. There is no dessert chapter. No garlic ice cream. This is a happy book, not a silly one. The chapters here include:
Starters and Soups
Sides and Salads
Mains
Dip, Sauces and Dressing
There are familiar recipes here, such as the Garlic Bread. But, since this is a garlic book, garlic is gloriously emphasized. Along with the other ingredients. These are "top of the mountain" recipes. So, for The Best Cheesy Garlic Bread, here are the ingredients for one, just one baguette:
½ cup butter
3 to 4 large garlic cloves
1cup mozzarella
1 cup Cheddar
A handful of fresh herbs— parsley, basil, and oregano all work well
1 fresh baguette, sliced diagonally at 1- to 2-inch intervals
Paprika, for sprinkling
Yes, ½ cup of butter and 2 cups of cheese for one baguette. And those 3 or 4 cloves of garlic. The recipe is typical of those in the book: intense in flavor. No, the garlic is never overpowering, but by God you know it is there.
Here are some other clever ideas you'll discover here:
Garlic & Tomato Tarte Tartin where garlic cloves are caramelized in sugar and vinegar and herbs

Garlic, Cumin & Beet Fritters with that characteristic beet color

Slow Lamb with Yogurt Mint Sauce where the lamb is cooked for 5 hours with a whole head of garlic

Roasted Butternut Squash Risotto — we made this, I'll blog it tomorrow, it's perfect

Tandoori Chicken where each chicken thigh is paired with its own garlic clove

Tzatziki fashioned in upscale fashion as garlic and cucumber float in both yogurt and crème fraiche

Pickled Garlic, Lemon & Limes with two heads of garlic marry three lemons and three limes
The recipes in the book are simple ones, demanding modest effort and typically little preparation time. That 5‑hour lamb is the exception, but a delicious one with the lamb cooked to the point of falling off the bone when you just look at it. It's the sheep version of pulled pork.
A book is good if you want to try, maybe, a quarter of the recipes. The Goodness of Garlic is very good and well over half these recipes are going to be fashioned in our kitchen over the next few months. We've done the risotto and giggled. I can't wait for the Pickled Garlic, Lemon & Lime.