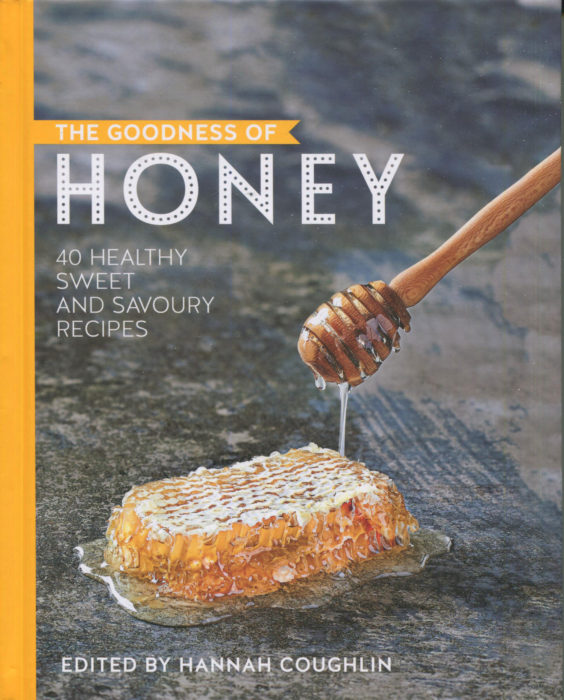 Fresh fruit aside, honey was the first great natural sweetener discovered by man. And great it remains. Feeling guilty about sugar? Don't. We are genetically driven to go for sweets like honey. Why? It's the best way for our bodies to gather sugar for immediate energy. Or, stored in tummy fat for future needs.
Okay, we really don't eat that much honey directly. On biscuits with butter? Sure. But we never just sit and eat a few tablespoons of honey. Well, almost never.
So, honey is rarely the "main" ingredient, but it can be an essential player in the symphony of ingredients the compose a recipe. There is no great proof of that honey utility than in the wonderful new The Goodness of Honey. Edited by Hannah Coughlin, this slim entry from Kyle Books offer forty recipes employing honey. That forty includes a most comprehensive set of sweet and savory recipes. Ideas appear for
Breakfast
Light Bites and Sides
 Mains
 Sweets and Drinks
Somewhere in this book, there will be a recipe that has you reaching for that bottle of honey on your shelf. You know, the bottle you will probably have to pry off. Go ahead, rescue that bottle and press on.
Here are the ideas that first caught my eye. Balinese Chicken has chicken beasts marinated in peanut butter, tamari, garlic, coconut cream, and honey. It's served in a salad with a dressing of fish sauce and lime juice and, yes, honey. The chicken salad is served in boats of lettuce leaves: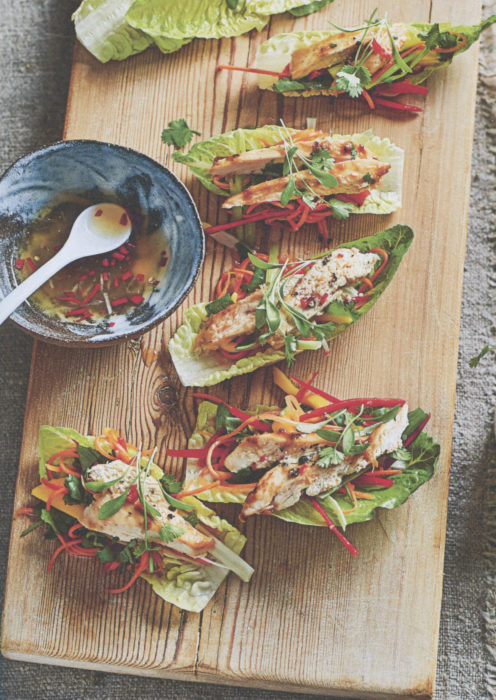 That is complete culinary beauty: sight, smell and taste.
You'll also find Chicken and Apples in a Mustard-Honey Sauce made with a base of apple cider. Our local farmers market is bursting cider and apples, so I'll be testing this dish this weekend. Look for a post with a great picture and I'm sure a powerful recipe.
Want something simple? How about a Cucumber Salad where the cucumbers are anointed with a dressing of honey, rice vinegar, tamari and sesame seeds?
If you read this blog, you know I'm addicted to gazpacho. Consider Tomato, Honey and Chili Soup. As the year grinds on, as the sun fades, tomatoes become problematic. The sweetness due to the sun will dwindle. Ah, that's where the honey comes into play rescuing tomatoes and this soup from winter blandness. Yes, I'm making this recipe, too.
Finally, that chapter Sweets and Drinks includes Semifreddo with Brandy Bananas. The semifreddo is honey, egg yolks, heavy cream, yogurt and broken up honeycomb. Yes, I'm making this, too.
Ah, as you can see, The Goodness of Honey is tempting. The team at London-based Kyle Books has explored the world for these recipes, like that Balinese Chicken. There's even a perfect day-after-Thanksgiving recipe: Honeyed Turkey and Avocado Salad. No, I won't be making that. Suzi and I already did. Look for a sparkling post.
The Goodness of Honey is literally a sweet book you can use year-round. All you need to do is buy more honey. Lots more.