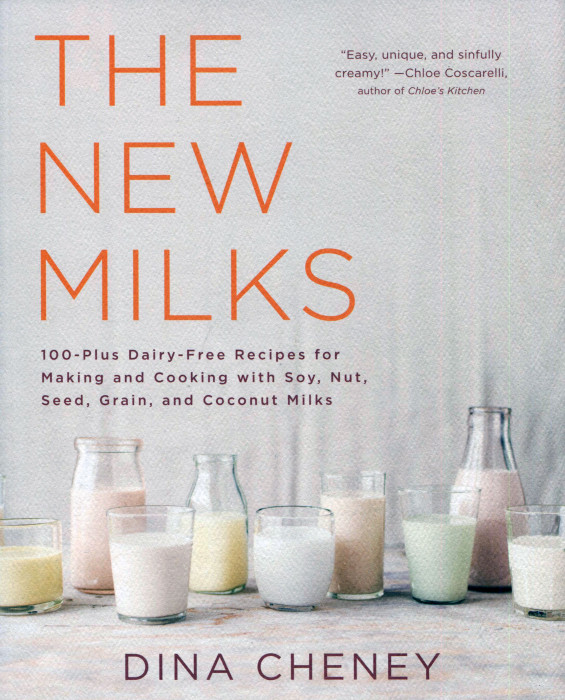 I love to shop. I'm happy to go with my wife and spend hours walking around, going from store to store or hitting the grocery to get the ingredients for a weekend feast.
I love to shop. Except when Suzi says, "Go get some milk." I dread the milk section of my market, of any market. It's become too confusing. There used to be whole milk, low-fat, and heavy cream. You could find the whole milk in a flash.
Now, I can search for minutes to find that whole milk, surrounded by shelves filled with all kinds of other "milks." I've asked myself two questions: what are those things and how would you use them.
Dina Cheney has been a prolific cookbook author for a decade and her new book, The New Milks, will be on the bookstore shelves on May 3rd. Dina answers my milk questions with intelligence, charm, and taste.
Convectional dairy milk is controversial for some people and for others, the lactose intolerant, it's just plain hard to use. Sometimes I can have milk-based ice cream with no issue and sometimes I swear I have to stop and rethink the whole whole milk thing.
The New Milks will help me with that reevaluation of milk in my life. Dina suggests making milks from soy, nuts, seeds, grains, and coconut. A twenty page introduction gives you all the steps and knowledge you need to make these new milks. There is a solid, detailed comparison of the nutrition provided by dairy versus these alternative milks. A major advantage of these new milks is that they are far lower in sugar and calories and fat. In short, they are a healthy alternative and let you avoid those lactose issues.
With the formulas in hand for making these milks, what do you do with them? Dina supplies ideas for the entire day in chapters to walk you through the day.
In Breakfast, you can sample:
Mexican Frittata with Corn and Zucchini made with almond milk

Hazelnut Pancakes with Molasses made with rice milk

French Toast with Cinnamon and Vanilla made with cashew milk
Lunch & Dinner Entrees offers more ideas that are seemingly familiar but made with these new milk ideas:
Lasagna with Butternut Squash, Shitake Mushroom and Swiss Chard made with cashew milk

Spiced Peas and Tofu with Coconut Milk

Grilled Rosemary Mushrooms with Red Wine Balsamic Reduction over Polenta with soy milk

Buttermilk "Fried Chicken" with Siracha Honey made with soy milk
Soups, Sides, Sauces, & Dressing suggests that every component of the meal can use the new milks:
Southwestern Corn Chowder with "Bacon" and Bell Pepper made with soy milk

Parsnip Puree with Hazelnuts and Sage made with hazelnut milk

Mashed Cauliflower with "Brown Butter" and Sage made with cashew milk

Creamy Basil and Chive Dressing made with soy milk
Breads & Sweets is the biggest chapter with over forty recipes, some classically familiar and some brightly new:
Banoffee Pie with coconut milk

Strawberry Cornbread with Coconut Sugar made with cashew milk

Spiced Chocolate Mousse with Fresh Raspberries using almond milk

Curried Cashew Pudding

Mexican Chocolate Pudding using hemp milk
Finally the Drinks chapter offers us:
Pumpkin-Maple Smoothie using almond milk

Hazelnut Hot Chocolate with hazelnut milk

Sweet Almond Rose Tea made with almond milk
The New Milks is an interesting "alternative" cookbook. Whether for reasons of conscience or health, if you need to shift from dairy, then this book shows that shift can be delicious and accomplished without sacrifice. And, even if you down some dairy milk every day, trying the Hazelnut Hot Chocolate is something just might make you even happier!