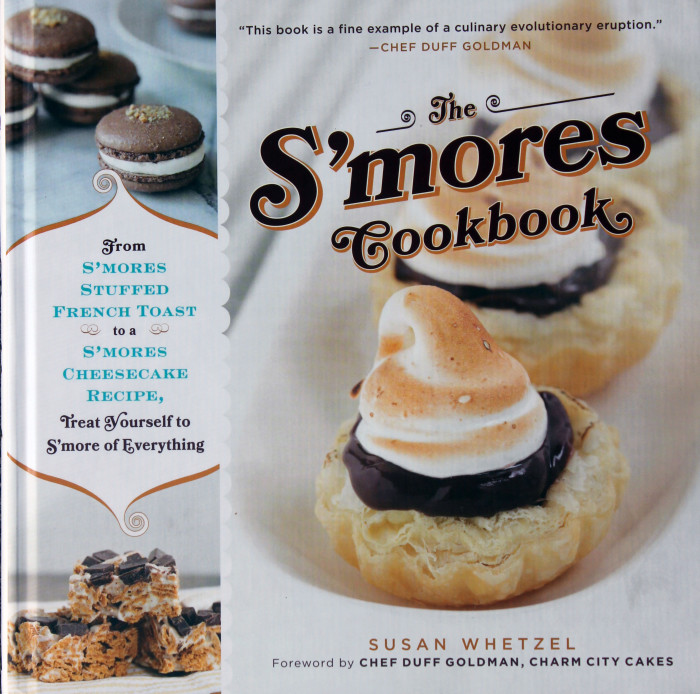 I do believe that s'mores represent a combination of ingredients with the longest time span:
Marshmallows were created in Egypt 4,000 years ago [seriously, although today's versions are just a tad, a big tad, different]
Graham Crackers came in 1829 [as a health food]
Hershey Milk Chocolate from a little company begun in 1894
No one knows officially when s'more were created and it is only speculated that "s'mores" stands for "some more." The first printed recipe is from the Girl Scouts in 1927. These days, Americans consume 90 million pounds of marshmallows a year and half of that in the summer and fall while making s'mores.
When you think about it, 90 million pounds over 300+million Americans is really too modest. We need more s'more consumption. We need help. We need The S'mores Cookbook by Susan Whetzel.
This is a clever book filled with s'morish ideas that will have you scratching your head: "Why didn't I think of that?" And you'll be in rapid search for marshmallows and other ingredients. Lots of ingredients because there are lots of ideas here including:
Not Your Average S'more: Black Forest with cherries and Apple Pie with apple butter
Breakfast S'mores: Pancakes, waffles and even stuffed French toast
Cakes and Pies: S'mores Layer Cake and Crustless S'mores Cheesecake
Decadent Desserts: S'mores Crème Brulée, S'mores Éclairs
Grab-and-Go Treats: S'mores Granola Trail Mix, S'mores Cereal Bars
Cookies & Brownies: Crock-Pot S'mores Brownies, S'mores Macarons
Chilly S'mores: Toasted Marshmallow S'mores Ice Cream, Chocolate S'mores Frozen Yogurt
Drinks: S'mores Milkshake, S'mores Hot Chocolate
Giftable S'mores: S'mores Bars in Jars, S'mores Popcorn
Essential Recipes: Homemade Graham Crackers, Marshmallow Frosting
Now, I am not sure about s'mores stuffed French toast. I'm not a chocolate for breakfast fan, unless it is hot chocolate, of course. But there are ideas here that Suzen and I will be testing and tasting. She's already seen recipes to incorporate in her team building events. Imagine a kitchen full of people cooking together with a dessert team assigned to make S'mores Chocolate Bread Pudding. Or S'mores Mousse Cups. People won't care about the chicken or steak another team is preparing for the meal. All attention will be on dessert. These desserts.
There is a picture in the book of the S'mores Layer Cake: a full cup of coffee, buttermilk, cocoa and lots of eggs. And the layers are topped with Marshmallow Frosting. No matter what your blood sugar registers, this dessert cannot be resisted.
You'd enjoy having The S'Mores Cookbook in your kitchen. You don't need a summer or fall campfire. You don't need a cluster of people. As author Susan Whetzel explains, it can be just you and your microwave or broiler. S'mores can be enjoyed year round. You just might feel like a pharaoh!