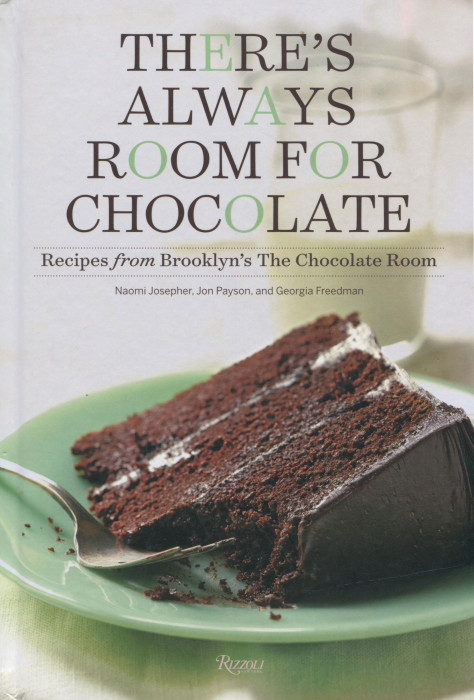 We have a holiday season upon us, the season when we do indulge in food and spirits. And chocolate. There's always room for chocolate in our lives. And now, we have just the book: There's Always Room for Chocolate from the husband and wife team of Naomi Josepher and Jon Payson, founders of the Chocolate Room in Park Slope and now Cobble Hill in Brooklyn.
Beginning in 2005, Naomi and Jon started with a small shop that has evolved from a "simple" chocolate store to a full-fledged dessert café. No, a dessert destination that you cannot miss. You don't even have to eat or drink there. Just, just come through the front door and smell. Warmth and chocolate. It's like a yoga session through your nose. You won't want to leave. Ever.
"What's the best thing in the book?" I asked Naomi on my visit there. The shop is filled with chocolate treats: cakes, cookies, pies, candies. I expected my question to stump her or at least give her pause. She answered in a flash: "The Brownies." So, I had a brownie and because you can't just eat a brownie and not drink something, I had the over the top hot chocolate as well.
Naomi was right. The brownie was sublime as good as any I have ever had. Yes, tomorrow, I will post the recipe with a radiant picture. There's Always Room for Chocolate was photographed by Ben Fink, perhaps the best dessert photographer this side of China. His presence is evidence of the quality that rings loud as you flip through the page of this important book.
How important? You want it for yourself and, in this holiday season, it is the ideal present for anyone who loves desserts and surely anyone with a passion for chocolate.
The book is organized around our usual suspects. Chapters include:
Cakes
Baked Goods [like the Brownies]
Pies [centered around the perfect chocolate crust]
Puddings & Custards
Confections
Drinks & Accompaniments
Recipes you encounter include:
Chocolate Frosting made with a rich base of cooked eggs

Chocolate Sandwich Cookies with a white chocolate filling

Rocky Road Squares

Marshmallow Sauce to be put on top of the Chocolate Sundae described in architectural detail

Chocolate Hazelnut Mousse Cake

Chocolate Cuatro Leches Cakes [tres leches plus dulce de leche because you can never have too much sugar]

Sticky Date Pudding with Chocolate Toffee Sauce
The recipes are rich. Densely, decadently rich. They are therefore intensely satisfying. Who doesn't like Oreos? Well, the Chocolate Sandwich Cookies here have a very complex filling made with white chocolate to give you a sandwich experience that is exceptional. There's a whole discussion of how to make the perfect chocolate pie crust, so that your Chocolate Cream Pie, or your Chocolate Pecan Pie, or your Banana Cream Pie, or your Frozen White Chocolate Key Lime Pie come out perfectly.
This is an important and professional book. The recipes are modestly complex and perfected. You are eating things here that have been made thousands of times, tested endlessly, tuned to optimize customer satisfaction. Everything shines with a chocolate sheen.
I've made the brownies at home and, yes, the recipe works and they are impossibly good. Am I going to post that recipe today? No. Because, not that Naomi is wrong, but this book has the single best chocolate cookie recipe I have ever, ever had. The Dark Chocolate Walnut Cookie is perfect and I'll post it later today. How perfect? My wife Suzi already wants to make a second batch today to take to a weekend party for a chocoholic friend. It's one of those enabling recipes that is not quite sinful but pretty darn close.
If you love chocolate, then There's Always Room for Chocolate. Always.