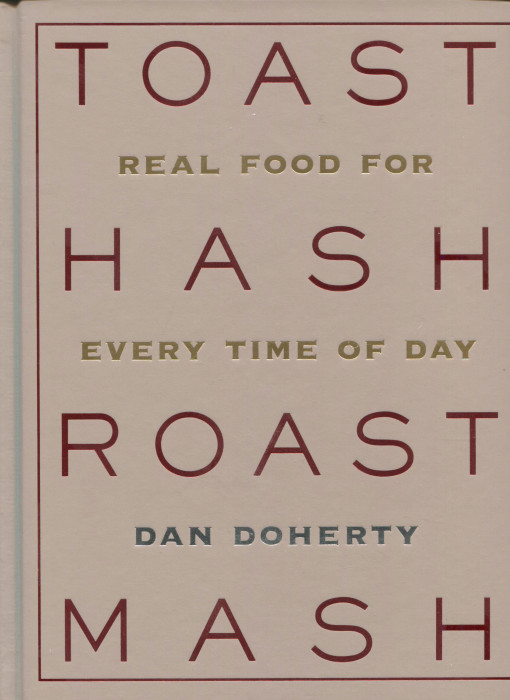 Two years ago, Dan Doherty's first book came out: Duck & Waffle. That book, those recipes cover the imaginative culinary landscape of the London restaurant that was deemed a landmark from the first week. My happy review is right here.
Now, Dan has returned. Toast Hash Roast Mash is subtitled Real Food for Every Time of Day. This is the food Dan cooks at home. You will probably now want to live with him. The food is that compelling.
This is guy food, breakfast food, comfort food. But, with a most British twist. There are recipes here with American names but you might not recognize Dan's version of things. I eat grilled cheese sandwiches. I have never had one with bacon and onion jam inside, then topped with a fried egg. I would not know what to call it. Maybe Dan has it right: Ultimate Grilled Cheese Sandwich.
Chapters here cover comfort food from many perspectives:
On Toast
Eggs
Hash with Eggs Over Easy
Pancakes
Hangover Dishes
Savory
Side and Salads
Sweets
Drinks
Dan has traveled the world and world influences are on display here — plus that daily dose of Asian impact that is inescapable as you walk London streets. Add to that daily exposure his native British penchant for using vegetables, even in drinks, and you find yourself gazing at recipes like:
Carrot Aperol Cocktail made with, yes, carrot juice

Cauliflower Curry, Boiled Eggs and Coconut Crumble

Coconut Pancakes with Rum-Roasted Pineapple

Eggs, Spinach and Feta Tarts with Honey and Poppy Seeds

Fennel, Dill and Lemon Bellini

Pork and Prune Meatballs, Mushroom Gravy, and Parmesan Crumble

Smoked Mackerel with Horseradish and Pickled Beets on Toast

Sticky Maple-Chile Cornbread with Grilled Prawns and Tomato Salsa

Red Pepper Margarita with Thyme and Lemon Syrup
I will say the recipes here are short, with only a handful of ingredients. But there is some prep time, for, say, that Thyme and Lemon Syrup to go into the margarita. Curry, fennel, spinach, dill and other garden and spice components float across every page. So, the recipes may be "short" but they are not "simple." You are going to experience dishes here that you have not encountered, but dishes I believe you will return to over and over. There is an obvious "wham" factor in almost every recipe. Subtle these are not. The satisfaction is intended to be overpowering.
Where to start in this book? I would go to that Hash chapter and double down. Begin enjoying Dan's creativity with his Curried Cauliflower and Brussels Sprouts Hash. Why not serve it with an English Garden Daiquiri made with poached rhubarb, cucumber, strawberries, and vanilla.
Like I said, he's British and he's creative. Toast Hash Roast Mash will transform your concept of brunch. And, you are going to want to start a vegetable garden.