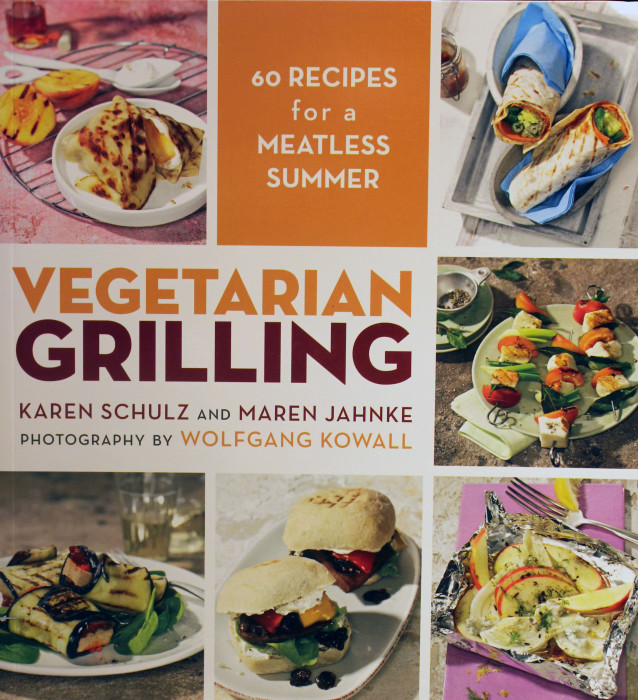 I officially now no longer think of "vegetarian" as a four letter word. I'm ashamed to admit that I once harbored certain prejudices. I've grown past it all. Not on my own. I had help. I had Vegetarian Grilling.
If you still harbor dark thoughts, and want to advance in life, — or if you just want some really good food — then Vegetarian Grilling by Karen Schulz and Maren Jahnke is an ideal book for you. This beautiful and no-nonsense book is organized with four major chapters representing, not food groups, but food cooking styles for your grill:
Skewered
Wrapped and Rolled
Grilled
Stuffed
The sixty recipes in this book give you a bounty of ideas, for summer and even into the fall and winter. If you have an indoor grilling surface on your stove, then you are in year-round business. And, while the intent here was to steer you towards a vegetarian meal, I don't think the authors would mind if you paired up some of these great ideas with a little protein.
If you like the look and mechanics of Skewered dishes, then consider:
Portobello Mushrooms Stuffed with Cream Cheese and Pine Nuts
Citrus Zucchini Feta Skewers
Flatbread Skewers with Tomato, Sheep Cheese and Pickled Chili Peppers
The Wrapped and Rolled ideas include both sweet and savory:
Sweet Crepes with Grilled Peaches
Cheese-Stuffed Dates in Phyllo Dough
Fennel and Apple Envelopes with Gorgonzola
The Grilled recipes spotlight, in a vegetarian book, fruit:
Mangoes with Scallion Vinaigrette
Asparagus with Goat Cheese
Grilled Pineapple with Vanilla-Ginger Syrup
And if Stuffed food makes you feel indulgent, then indulge away on:
Stuffed Peppers with Harissa Couscous
Onions with Fig and Goat Cheese Topping
Spinach-Stuffed Portobello Mushrooms
There's an accompanying chapter offering a phalanx of Dips and Spices:
Chili-Mint Oil
Maple Syrup and Walnut Marinade
Apricot Barbecue Sauce
Onion Relish with Raisins and Mustard Seed
The book is amply dotted with full-page photographs by Wolfgang Kowall, a man who has mastered mixing colors, light, and shadows. He makes food look gorgeous, although Goat Cheese-Stuffed Grape Leaves do have an inherent beauty.
More importantly than the photos, the food is delicious. I've made the Onions with Fig and Goat Cheese Topping and it's on our list for summer party food. That recipe, and in fact all the others here, share a common culinary philosophy. These are not complex recipes. A few ingredients, a brief set of instructions. But the amalgam of flavor and color and shapes and sizes will delight you. This food may be "fast" but it is far, far from fast food.
You can knock off one or two or even three of these recipes and easily have a meal that is nobly distinguished, with a variety of flavors, textures, and aromas. And this meal will be most satisfying to your palate. That onion dish, the one I keep mentioning on this blog, is a perfect example: it literally was a meal in itself.
I don't think Vegetarian Grilling is just for vegetarians or just for grilling season. This is a book for everyone and a book to be enjoyed throughout the year.