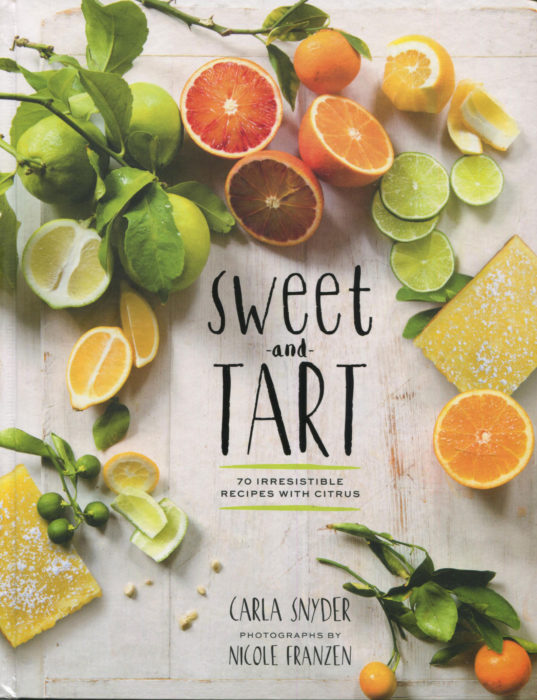 I reviewed this book a couple of years ago and Suzi and I dip into each season. The original review, posted in February, noted that pears were not in season but they would come into play for us all. The Roasted Pear Tart with Limoncello Custard and Rosemary-Cornmeal Crust will make you very happy fall and pears are upon us.
---
Carla Snyder has had 30-year career cooking, catering, writing, and bringing to thousands the treasures of her kitchen. In her eighth book, Sweet and Tart, Carla tackles the difficult job of a "single topic" cookbook. How do you something new and different while not forgetting the classics.
In Sweet and Tart, Carla addresses all the concerns. The classic recipes are here: lemon curd, lemon meringue pie, poppy seed life with lemon glaze.
It is the new recipes, the creations from her kitchen, that make this book worth your serious consideration. Ideas like:
Goat Cheese Crème Brulee with Lemona dn Cardamom

Grapefruit Custard Pie with Saltine Cracker Crust

Lemon Monkey Bread

Limoncello with Berries and Meyer Lemon Ice Ca

Roasted Pear Tart with Limoncello Custard and Rosemary-Cornmeal Crust
The trademark of these recipes is surprise and contrast. Take that Grapefruit Custard Pie. Grapefruit is a wondrous citrus but also a tad puzzling. Its tartness can bite through steel, yet be gently mitigate with simple sugar. Sure, a lot of sugar. We eat the fruit, we drink the juice but we ignore the power of grapefruit in a recipe. Here the grapefruit is put to use and, to provide surprise and actually tame the intensity using salt, the pie has a crust of Saltine crackers. Ah, I'm use to Chocolate Wafer Crusts and Oreo Crusts, but I would not have imagined Saltines.
There are no Saltines in that Lemon Monkey Bread and no cinnamon either. Plenty of brown sugar and both lemon juice and zest. It's a whole new twists on monkey bread.
It's not pear season now, but it will be in the fall. Suzi and I will be testing that pear tart, and I am pretty sure it is destined for Thanksgiving tables. In meantime, don't hold back. There are plenty of recipes here to try. Now. Today. Tonight. This weekend.
There is life beyond chocolate. Yes, there is. And Sweet and Tart proves it on every page.