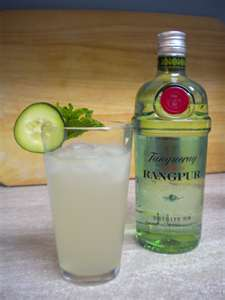 This post will get you to a wonderful beverage: a Cucumber Collins. You've tried a Tom Collins before? You are about to enter a whole world of Collins beverages, courtesy of Adam Freeth.
There may be a rush coming later this year to our bookstores, but so far few new beverage books, especially cocktail books, have been published. So, when I saw Bartending: A Professional 's Guide to the Industry by Adam W. Freeth, I naturally picked it up. Would it be fresh? New? Interesting? Would it be important?
Happily, all the answers are yes. If you are a serious home bartender, and certainly an aspiring professional one, this book is one you will enjoy. In fact, it is a primer for someone who wants to venture on the other side of the bar and professionally start serving beverages. So, bartending tip, tricks, and etiquette abound here. You probably already know some of the basic principles: no drinking on the job and the "customer is always right." Even when they are not. Even when you are thirsty.
There are interesting, detailed, but not-too-long discussions of beverage families. For example, the Collins family is defined as range of fresh lemonades with alcohol additions. A great Collins is generated when the sour part is balanced by appropriate sweetness and then the entire beverage is topped off with some carbonation. That carbonation, of course, provides an additional avenue for the inherent flavors to be sensed and  enjoyed.
Here is Adams's generic description of a Collins beverage based on his five S's philosophy:
Spirit: gin is the natural choice but there are many substitutes that can be employed including Scotch, bourbon, rum, tequila, cachaҫa or cognac. That's quite a range of flavors. And the first impression on you palette is going to be quite different with each one.
Sweet: sugar of course can be used, or a sugar syrup. Fresh fruits and fruit purees can be added, although you'll have to check the flavor balance at the end since fruit sweetness varies day by day. Or liqueurs or cordials can be employed. For example, St. Germain can be used for a perfumed elderflower touch.
Sour: lime juice, bitter orange juice, or grapefruit juices should be used. Fresh squeezed, of course!
Shaking: the spirit, sweet, and sour components should be shaken vigorously and then strained into a ice-filled Collins glass [also known as a high-ball glass, the glass holds 12-14 ounces and has slightly outward sloping sides].
Soda: some carbonated liquid is needed to yield the "classic" beverage. If your carbonated choice is itself sweet, then you need to downward adjust the amount of sweet element you use.
And now, for the Cucumber Collins recipes. Adam is fond of Hendricks gin, a new Scottish product. People have rather striking gin preferences ["This is NOT Tanqueray," Suzen will announce] so some experimentation may prove beneficial.
Cucumber Collins
Yield: one cocktail
Material and Ingredients:
One 12 ounce Collins glass
2 ounces of Hendricks gin
1 ounce lemon juice
½ ounce sugar syrup
3 cucumber slices
Ice cubes
Soda water
Lemon slice or wedge and cucumber slice to garnish
Preparation:
Fill the Collins glass with ice. Full size ice cubes will melt more slowly and dilute the drink more slowly. Crushed ice will chill the drink very quickly, but they will melt quickly, too, and thus dilute the drink much more quickly than ice cubes. Your personal preferences and drinking speed come into play here. If, if you substitute something for the gin, say cognac, than dilution over time is not a bad thing.
Add the gin, lemon juice, sugar syrup and cucumber slices into a cocktail shaker and fill with ice. Cover and shake for a several seconds. Stain into the Collins glass and top with soda. If you desire, fish the cucumber slices out of the cocktail shaker and add those to the glass.
If you like, gently stir with a spoon to mix. Garnish with a lemon slice or a wedge of cucumber.
Source: Bartending by Adam W. Freeth