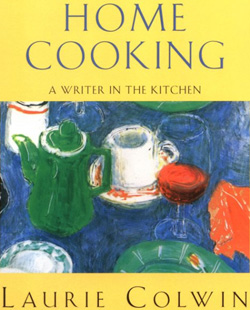 I love to read, now. My dad would roll-over if he heard me say that. I only started really reading when I went to college. I generally enjoy fiction, and actually that is how Brian and I met. We both love mysteries and were reading Robert Parker's series when Brian put an ad in Boston Magazine looking for "Susan Silverman" aka Spencer's girlfriend.  I answered his ad (without the need to send the enforcer Hawk after him), we met and we married.  Six months end to end!
What does all this have to do with Laurie's wonderful book you say? I am getting to that. As I said I love to read. I have been involved with two lovely book clubs through the years. The first one, Bitches on Books, was about fifteen years ago.  One of our members was a graphic designer who fashioned a great and appropriate letterhead logo. This fabulous group of women met once a month and focused on fiction, both current and classics.  We would always serve great food, fun wine and have a ball. I miss those Bitches.
Now, at Cooking by the Book we have an informal and still unnamed club. We circulate books that we like, get our friends to read them, and talk about the books in between events.
And for further reading, I am a current member of the New York Women's Culinary Alliance Book Club. This month's selection is Laurie's book, Home Cooking.  Home Cooking is developed as series of brief essays describing her approach to life and food.
While I read the book, I kept saying to myself what a great gift this book would be to several of my friends.  I wanted to share her common sense perspective and homey recipes.  The recipes are woven into the essays and some of them seem so good, you just want to stop reading and start cooking.  She has a lovely mustard chicken with bread crumbs that I had to sample.  I did and it was as delicious in real life as it seem to me when it jumped off the page.  The recipes are old style, reminding you of lost jewels.  Read the book and you'll catch yourself saying, "I remember that!"  You can almost taste it as you read it.  And, like me, you find yourself compelled to put the book down, open the frig and get cooking.
This brief little book is a culinary gem.  I hope you read it and enjoy every sparkle.
Mustard Chicken:
The chicken is cut up and coated with mustard into which some garlic has been grated, along with a little thyme, black pepper and a pinch of cinnamon. ( I did not use the cinnamon) I also used one of my fancy grain mustards that was sitting on my shelf. It is rolled in fine bread crumbs, dusted with paprika, dotted with butter and cooked at 350F for about two house (or when an instant read thermometer registers 180 degrees). It can be served hot or at room temperature and will never let you down. Right she is!