Coming from a mixed marriage where we celebrate every fun food holiday, I have been in a quandary for what to serve for Passover. I've already planned to cook a fresh ham for Easter, but this was working backwards: Easter follows Passover and I want to have a wonderful and traditional Passover meal for both family and guests.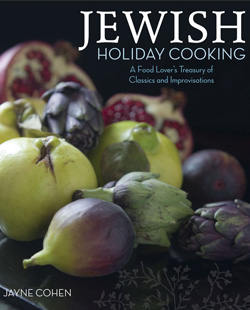 I was lucky to receive Jayne Cohen's new book Jewish Holiday Cooking recently and, like her first book The Gefilte Variations, this wonderful volume is a superbly crafted jewel. Jayne tells some wonderful stories about her family [don't miss the story about her grandmother's flanken on page 89]. Jayne is a careful recipe tester and has filled this book with inspirational recipes offering tempting contemporary twists. This book is nominated for a James Beard Award this year, and I will keep my fingers crossed.
Reading this beautiful book quickly inspired my Passover plans. We'll start with her Chopped Chicken Liver with Caramelized Onions and Matzo. For our entre, I'm ready for her Slow-Roasted Salmon with Green Herb oil and Beet-Horseradish Relish with Wild Mushroom Potato Kugel and Fresh Asparagus. As far as dessert goes, that is generally Brian's domain, and knowing him I bet he will choose the Hungarian Chocolate-Walnut Torte with fresh whipped cream [the page is already dog-eared in the book so I think he already found it]. I know this review for Jewish Holiday Cooking is cutting it close, but Jayne's book has all the necessary information for this year and many more to come. She has recipes for every holiday, and I will use throughout the year.