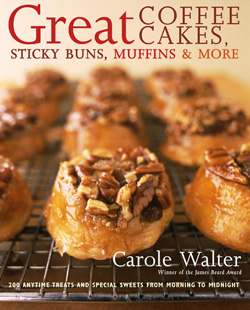 I've been baking since I was six. Well, if you count brownies out of a box. As I truly learned to bake, I become good, sometimes very good, but never great. My faults were standard ones: just a tad sloppy in measuring and often impatient as I rushed to complete the batter. Baking is said to be as much chemistry as cooking, so making mistakes about the relative proportions or the timing are routes to bad cookies. I know.
I reformed. There have been two big influences. I hate to see a look of disappointment on Suzen's face. And, I would never want to disappoint my friend Carol Walter. Carol is the mother, grandmother, aunt you always wished you could have. Beautiful and articulate, she is a wonderful human being and an incredibly gifted baker. She is the author of four cookbooks, and her latest, Great Coffee Cakes, is another essential reference.
There's just one thing about Carol. In print, she can come across, well, a bit tough. You wouldn't know it in person, but in her books, Carol is no paper tiger.
It's a bit like being back in first grade with a rather demanding teacher. Carol's recipes are not overly complicated but they are filled with procedural details. She wants you to use certain ingredients and to follow specific steps and to take precise times for those steps. She really means it.
Here's the payoff: it works. One of my downfalls used to be creaming butter and sugar. I'd start with cold butter and regular granulated sugar and pour them together and start mixing away. Have you ever creamed the butter and sugar and then dipped your finger in to taste it? [Oh, come on, be honest, of course you have. It's a quality control thing. You are not a sugar addict if you do it. You don't need a 12-step program. Just maybe a 4 or 5-step program.]
And what do you taste then? Grit. You can't get that sugar really incorporated into the butter, can you? The consequences are not good, although you may not know it yet. You might get an adequate cake or cookie that way, but let me assure you, it is not as good as it could be.
Listen to a typical paragraph from Carol [this one from her Banana Chocolate Chip Cake!]:
"Cut the butter into 1-inch pieces and place in the bowl of an electric mixer fitted with the paddle attachment. Mix on medium speed until smooth and lightened in color, about 2 minutes. Add the sugar, 1 to 2 tablespoons at a time, taking 6 to 8 minutes. Blend in the eggs, on at a time, beating thoroughly after each addition, scraping down the side of the bowl as needed."
Carol, by the way, uses superfine sugar in her recipes to enhance the creaming process. Still, eight minutes just to incorporate the sugar into the butter! That's a long time, and very different from just dumping all the sugar in at once.
And what happens when you taste after 8 minutes? It's impeccably smooth. No grit. Just this light fluffy texture, which only becomes better after you add the eggs. [Yes, I taste the batter at that stage, too. Don't you?]
With guidance like this, it's like having Carol in the kitchen working with you. Follow her steps, do what she says, exactly, and you end up in baking Nirvana. The quality of what you create will be the best you have ever, ever produced. Once you've tasted the consequences of Carol, there's no going back.
I'm working my way through Great Coffee Cakes one rich recipe at a time. That Banana Chocolate Chip Cake has a wonderful texture and a smart banana flavor. My favorite is her Sour Cream Marble Cake, which is pictured here in the blog. It's a beautiful cake, to the eye and to the palette. It's greatness comes from some complexity: there is chocolate plus cocoa powder, sugar plus corn syrup, sour cream plus milk. And, of course, butter cut into 1-inch pieces, plenty of superfine sugar, and four eggs. I invite you to buy Carol's Great Coffee Cakes, take the time to follow all her advice, and then savor all her wonderful treats.
You, too, can become a great baker. One or two tablespoons at a time.