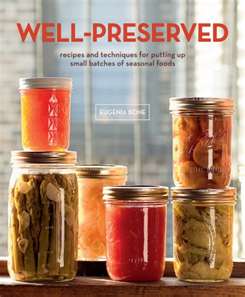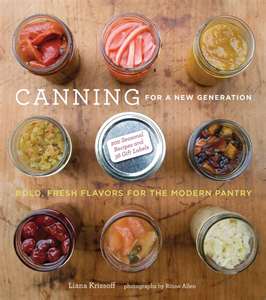 For most of us, our memories of our mothers revolve around food. Whether Mom was great in the kitchen, or a disaster, we member the sights, sounds, and smells. I know that my mother was particularly fond of food preserving. Not just the best strawberry jam, but pickles and carrots and beans. As a kid, I grew up with the smells of foods being preserved. Big, big metal pots. A long spoon I needed to stir the contents using both my hands while I tiptoe-balanced on a kitchen stool. And I have never overcome the joy of pouring an entire five pound bag of sugar into a pot for a massive batch of strawberry jam. That sound of a billion grains of sugar rustling over each other is a manta to me.
The joy and the importance of home preserving are increasing in this country. Far too few families attempt it, but the trend is there. And, once you've begun to "do your own," you are seduced by the flavors. Your ego gets a deserved boost. And there is something comforting about just going from raw foods to jars you've filled yourself. No intermediate "food factory." No long distance hauling by trucks. No supermarket shelves. Just fresh, ideally from your farmers' market, to your jars on your shelves.
Now, fewer and fewer of us grew up in homes where preserving was a tradition. We don't teach it in high school classes any more. It's a culinary art that could have gone extinct. Yet the rebirth has begun and there are wonderful resources for you to follow.
For Mothers' Day, consider giving Mom one of these two superb books on preserving and canning. And, then, help her do it. Get the kids in the kitchen and discover a new level of family togetherness.
Canning for a New Generation: Bold, Fresh Flavors for the Modern Pantry by Liana Krissoff is a modern take on canning with a very wide reach of ideas. And recipes to boot! There's a recipe for Brandied Sweet Cherries with Red Wine, followed, in two pages, by a recipe for Roast Cornish Hens using those very same brandied cherries.
The book is divided into four sections, one for each season, with separate mini-sections for fruits and for vegetables. Spring has fourteen fruit recipes — thankfully heavy on strawberries — followed by twenty-four vegetable ideas. There's pickled asparagus, but also asparagus flan. Pickled young spring garlic is here, along with radish pickles. There are all the old recipes you might remember here, but oh so many new ones to try.
Well-Preserved: Recipes and Techniques for Putting Up Small Batches of Seasonal Foods by Eugenia Bone is a second book that belongs on your shelf. Here, the focus is on those small batches, not the 15-gallon pots of my youth. Each recipe for preserving is followed by three or more ideas to use that new creation. For example, once you've made the Strawberry Balsamic Jam, you are ready to try:
Strawberry Balsamic Panna Cotta
Rice Pudding with Strawberry Balsamic Jam
Strawberry Balsamic Poached Pears
Yes, this book also goes beyond the "usual suspects" giving you ideas for preserving
Marinated Baby Artichokes
Tomatillos
Pickled Cauliflower
Stewed Onions
Canned Tuna
Gravlax
Tuna and salmon? Yes, this book is about preserving food, not just fruits and vegetables. The perspective here is direct: fresh is best. So the tuna recipe is pretty simple: chunks of fresh tuna go into sterilized jars, are topped with salt, and then with olive oil. Simple, pure, and something you surely have not done before.
The ideas in Well-Preserved and Canning with make you pause, perhaps with fond memories or possibly in just a tad of disbelief. You will surely salivate. I hope your curiosity is stirred. And, should you take the plunge to spend an afternoon in the kitchen, then your pantry will reward you for weeks or months to come.