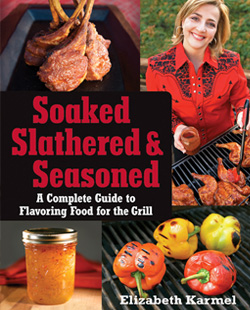 Beyond cookbooks, I love travel books. The new generation of travel books are more like encyclopedias. They provide A-Z details for your destination. One small book will cover history, geography, airports, how to mail a letter, and where to hike on a rainy day. It's wonderful to have the total package with all the information you need. Better yet, it's ideal when all that information is actually correct.
Back to cookbooks. If you go to the barbeque section of your local bookstore, it's easy to become overwhelmed. There are a lot books there, and many of them tend to be hefty. Lots of oversized pages with advice that varies and even contradicts from one book to another. It's easy to become confused. And all you want to do is cook a chicken with something interesting and gooey spread on it!
Look carefully in that barbeque section. Push those big volumes aside. Look for the slimmer one, the one that looks like a travel book. Soaked, Slathered, and Seasoned by Elizabeth Karmel is the one book you want. It is the encyclopedia, the book you can trust. Soaked is filled with wonderful recipes including ones both interesting and gooey for that chicken you have waiting.
This is a book devoted to flavors and the different ways to invoke them on your barbeque. Elizabeth does provide a great basic Grilliing 101 section and then is swiftly on to multiple techniques for introducting flavor. If you want to soak, she discusses marinades and brines. If you want to slather — which is my preference — she provides recipes for sauces, glazes, mops, salsas, and more. And if you are into seasoning, she covers rubs, spice blends, compound butters and other techniques. The book is simply filled with an abundance of techniques for pizazzing your protein.
There are extensive, carefully written sidenotes that explain techniques, give hints, and quickly guide you to preparing your meal. Some of the best recipes are also the quickest. Her Oranage Marmalade and Grand Mariner Glaze is so good you just want to eat it out of the pan and not bother with the chicken. I tried one of her variations for this recipe using tequila and lime juice. It's sumptuous. Suzen glared at me and told me to put the spoon down.
Nothing is perfect. So I should mention the one problem I have with the book: there are too many recipes that look too good. Just flip the book open to any recipe, and you want to try it.
How did she do that? I called Elizabeth and I asked. She laughed at my "backhanded" compliment. And then she explained. Elizabeth teaches Southern Barbeque Cooking at ICE, the Institute for Culinary Education here in New York City. ICE is a prominent professional cooking school, and her class has a two year waiting time. One of her perspective students contacted her directly, and the result was Hill Country, a very authentic Texas-style barbeque restaurant here in NYC. Elizabeth is the Executive Chef for Hill Country. Back at ICE, she had a team of professional students test each and every recipe in Soaked, and Elizabeth tasted every one of those tests. The result is a book with wondeful recipes, easily read, easily followed, and easily consumed.
At Hill Country, the "house" sauce on the table is a Chipolte Peach wonder. Elizabeth has shared the recipe in this book. It's a very sweet starting point. Trust me, once you start, you won't stop. I'm working my way through Soaked this summer. Rain or shine, there is no better way to flavor up your grill.