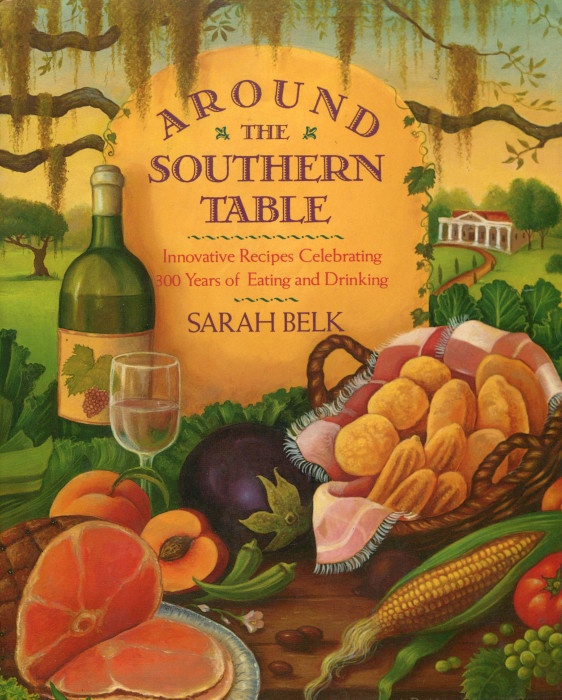 If you take a yoga class in Bozeman, Montana and if the instructor seems remarkably wonderful, you may just have met Sally Belk. In earlier days, Sally used the first name Sarah. From 1985 through 2006, Sarah was a Senior and then Contributing Editor for Bon Appetit, living in New York, then Virginia and finally far west in beautiful Bozeman.
When she wrote Around the Southern Table in 1991, Suzi and I were among the first to get a signed copy. We loved the book and have cooked from it ever since. Back in 1991, it seemed to be a very good and very thick book — over five hundred pages filled with an army of Southern-style recipes.
Now, in 2015, a quarter of a century later, I have a different perspective. Around the Southern Table is surely a cookbook triumph, one that you want to own, ready, study, and surely cook from. Very few of today's books come close to the detail, research and quality of Around the Southern Table.
There are two reasons for my love of this book: the recipes, of course, but even more the headnotes. The history in this book, coupled with the authenticity of the recipes, makes it a trove of culinary history. Sarah's research was extensive, deep and entertaining. Dining on a dish, say a Lamb and Fennel Burgoo with Garlic Biscuits, mean a little bit more when you know how central this dish is to Churchill Downs.
Here's one example: the Blackberry Roll. It's her updated version of Blackberry Roll from New Orleans two hundred years ago. That Roll was encased in white muslin and boiled for two hours, like an old-fashioned fruit pudding from England or France. In Sarah's version, you are spared muslin and boiling. Instead, you roll out a dough, cover it with berries, roll it up like jelly roll and bake. Like a wrap is to a sandwich, so this roll is to a pie.
Suzen and I haven't made this yet, but Suzen is about to make it for herself for the Mother's Day this Sunday — please don't tell her, it's a surprise. I want her to have a lovely Mother's Day.
In background for this recipe, Sarah notes that originally blackberries were discounted and agricultural books give instruction on how to destroy the plants. Yes, destroy. Fortunately, like so much professional nonsense, it was the advice and not the berries that became rubble.
Starting with breads and going through to beverages, Around the Southern Table is filled with recipes that harken to an Old South that may well be lost behind highways and strip malls. Molasses and bourbon appear here in all their wonderful flexibility:
Bourbon Orange Pound Cake with Bourbon Glaze and Orange Apricot Sauce

Molasses Buttermilk Cornmeal Muffins

Quick Pork Chops with Orange-Bourbon-Molasses Glaze

Roast Duck with a Light Lime Molasses Sauce
Cider is liberally apparent, too:
Veal Scallops with Cider Cream, Onion Confit and Glazed Apples

Dandelion and Bacon Salad with Hard Cider Vinaigrette

Peanut and Ham Stuffed Chicken with Cider Sauce
Desserts, such a pillar of Southern cuisine, are happily here in abundance:
Blackberry Roll, of course

Cornmeal Sugar Cookies

Crisp Pecan Shortcakes with Strawberry and Rhubarb Sauce

Peanut Layer Cake with Whipped Cream Filling and Caramel Peanut Sauce
There are little nibbles and accompaniments, too:
Herbed Chevre Biscuit Thins [a favorite of George Washington]

Vidalia Mint Butter

Caraway Rye Biscuits with Horseradish Cream and Smoked Trout
Our culinary history is dominated by two very conflicting tides: our ability to create the widest range of new ideas and our sad tendency to gradually forget so many of our excellent creations. Ideas come together, are refined, flourish, and then slip away. No one, no one makes them anymore. The recipe is lost and so is all the enjoyment that might be experienced.
Around the Southern Table is a treasure chest of ideas that should not be forgotten. They should simply be made and eaten.
Often.