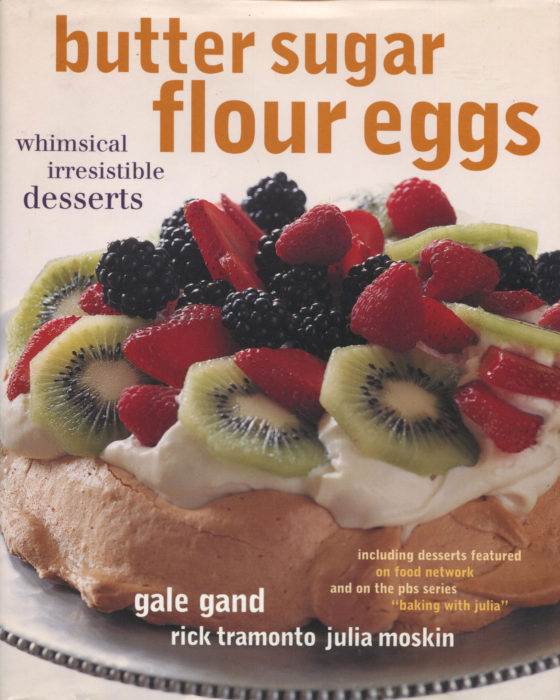 There are two reasons to buy this book. First, it is from Gale Gand, with her colleagues Rick Tramonto and Julia Moskin, equally skilled culinary professionals. Second, there are the chapters:
Butter
Sugar
Flour
Eggs
Chocolate
Citrus
Fruit
Nuts
Cheese
Spice
And the third of the two reasons is shown in the photo below: Sharon's Sticker Buns.
This 1999 book remains a gem from a prior century, a gem that sparkles page after page. Gale is a perfectionist. So, here you will find "familiar" recipes that she has tuned to her grand Gale-level of perfection. Here you'll encounter:
Perfected Lemon Tart with a surprise walnut crust

Moist Ginger Cake with Orange Icing, moist because you use 9 eggs!

Dessert Waldorf Salad with Roquefort, surely the first time you'll have Waldorf at the end of the meal
There's her treatment, too, of some classic recipes that might be lost if not captured here:
Brooklyn Blackout Cake

Brown Derby Grapefruit Cake with Grapefruit-Cream Cheese Frosting
And it is clear that Gale has a molasses fixation:
Banana Strudel with Ginger-Molasses Ice Cream

Molasses Rum Raisin Cake

Now 18 years old, this book will be opened by Suzi and me for the next 18. Or longer. It's a wonderful treasure chest of dessert gems, treats to sample year-round.
And those Sticker Buns? They are.