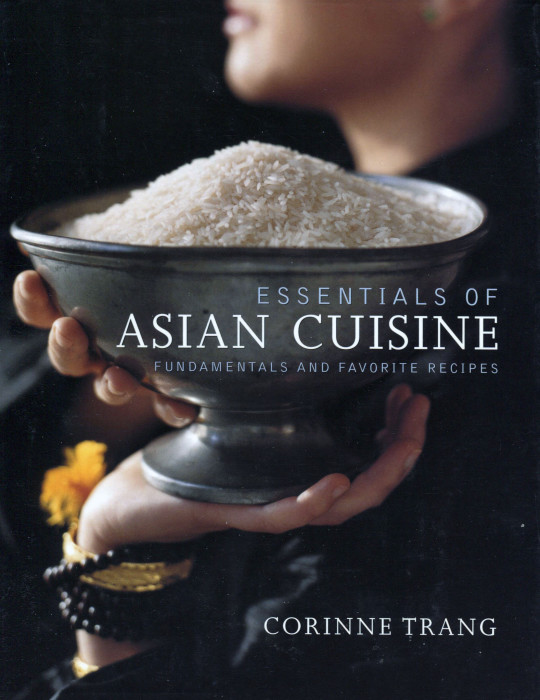 Suzen and I have known Corinne Trang for a dozen years. We fell in love with her at first bite, for we did begin cooking from our first evening together. And it was just a dozen years ago when Corinne wrote this classic encyclopedia of Asian cuisine. Essentials surveys the cultures and the cooking of Cambodia, Indonesia, Japan, Korea, the Philippines, Thailand, Vietnam, Japan and China. It is China that serves as the focus of the Asian culinary tradition with other nations taking Chinese concepts and adopting them to their particular traditions, climates and foods.
What kind of person could undertake such a journey? Corinne is French-Chinese, growing up in kitchens in Southeast Asia, Paris and the Loire. Her mastery of Western and Asian cuisines facilitates exceptional insights into these Asian recipes. Corinne is an excellent writer and uniquely able to let Western readers understand the history and heritage of these recipes spanning thousands of miles and many, many distinctive food cultures.
The organization here is not by nation or culture but by food type. So the chapter on Meat and Poultry has tasty treats including:
Spicy Pork with Shiitake Mushroom Stir-Fry from China
Crispy Pork Belly from the Philippines
Cambodian Braised Black Pepper Pork
Thai Pork Curry
Cambodian Stir-Fried Chicken with Young Ginger
Spiced Pork in Leaves from Bali
Korean Spicy Grilled Pork
Japanese Pulled Pork
Vietnamese Beef with Lime Sauce
Shanghai Five-Spice Fried Chicken
Indonesian Curried Goat
That spectrum of recipes is typical of this book. From one page to the next, you may journey a thousand miles. And the center of attraction can be pork, beef, chicken, and, yes, even goat. The recipes here have been carefully chosen, icons of flavor with each one offering you the opportunity for an exceptional and most authentic feast.
Other chapters in the book include:
Condiments
Stocks, Palate Cleansers, and Starter Soups
Rice, Noodles, Dumpling and Breads
Vegetables and Herbs
Fish and Seafood
Sweets and Drinks
There are hundreds of recipes here, all clearly written, easily followed, and ready for you to jump in. But where do you jump in? You were born in Kansas and what do you know about combining what with what?
You need Corinne's sample menus which can have you assembling a deliciously authentic feast. Why not get your family and friends together next Sunday for you very own Dim Sum:
Cantonese Roast Pork Buns
Crystal Vegetable Dumplings
Shanghainese Spring Rolls
Beef and Chive Dumplings
Deep-Fried Sesame Dumplings
Egg Custard Tarts
There is adventure in this book. It may not lead you to open up your own authentic Cambodian restaurant, but it can bring you endless nights of Asian delights.