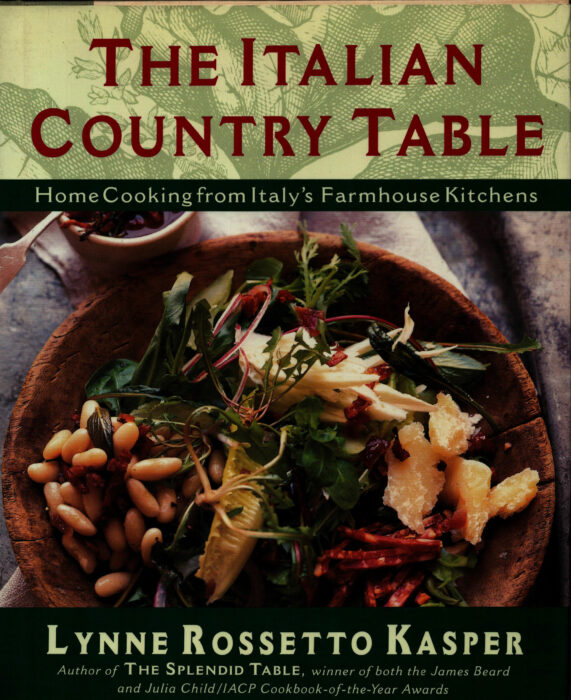 Lynne Rossetto Kasper is noted for many things: her grace and style, her decades of The Splendid Table on Public Radio, her marvelous writing capabilities. But I suggest she is notable for one thing: her authenticity.
Her book The Splendid Table deservedly won many awards. She had a half dozen other books and this one, The Italian Country Table, is the hidden gem of them all.
The subtitle here is "Home Cooking from Italy's Farmhouse Kitchens." That is precisely what you find here. Not the recipes of the restaurants in Rome or Florence. Not even the recipes of village trattorias. No these are the home recipes that reflect the terroir of the local farms and gardens. The terroir of perhaps just a few square miles.
So, you'll find Tuscan recipes. And Sicilian. But you won't find hybrids. These are the real, local deal. There are, of course, the chapters you would expect to find: Antipasti, Pasta, Soup, Desserts.
But it is another chapter where the "local" ideas shine through: Pasta Meets the Tomato. This chapter is a Wikipedia of how to use tomatoes. There are multiple master recipes for tomato sauce, raw and cooked, plain and dense in herbs. Yes, there's a wonderful Green Tomato Sauce you may adopt for the rest of your life.
I could recount dozens of ideas why you want to have this book in your kitchen, but I'll keep the examples to five. First we have Linguine with Pistachio Almond Pesto: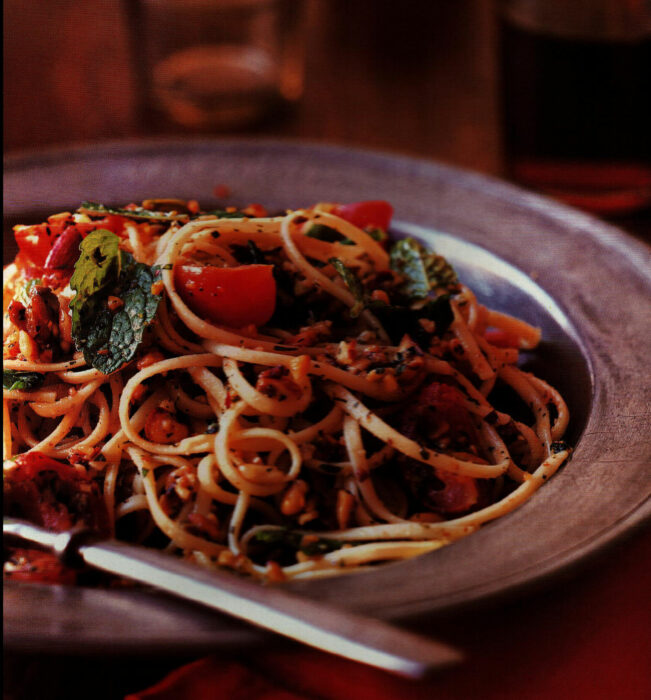 Or you might enjoy these Trout Marinated with Sweet Onions. I'll post this recipe later tonight: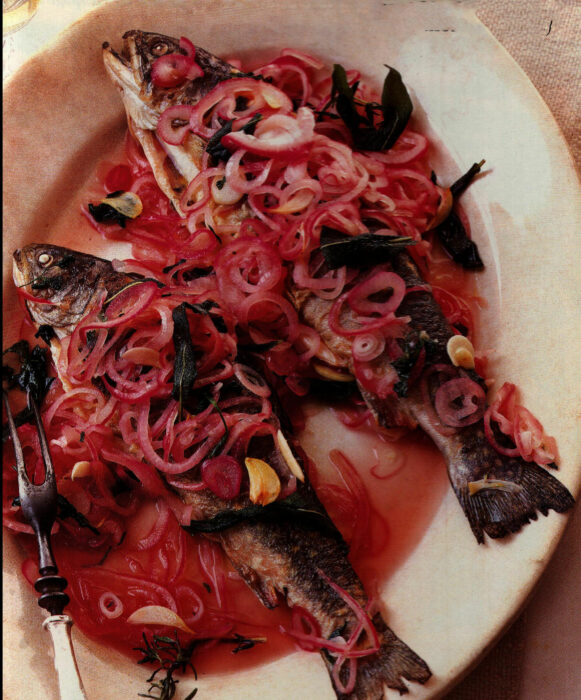 How about Twice Baked Potatoes filled with a mixture of cheese, mushrooms and tomatoes. Do you like focaccia? Well, here you will find a Raisin and Rosemary Version. And lastly you might enjoy the Early Autumn Vegetable Roast. There's still time this winter to consider vast combo of:
Eggplant
Zucchini
Onion
Carrots
Sun-Dried Tomatoes
Fresh Tomatoes
Squash
Red Pepper
Celery
Reed Bean
Olives
And herbs galore
This home food, this peasant food, is what you would expect: overflowing with flavors and colors. Some dishes, like the trout, are quite simple. And some, like that vegetable roast, will have you spending the afternoon stirring the pot. All these recipes are worth the time and effort. You'll find treasures here that have taken centuries to perfect. It won't take you that long to welcome them into your own list of favorites.