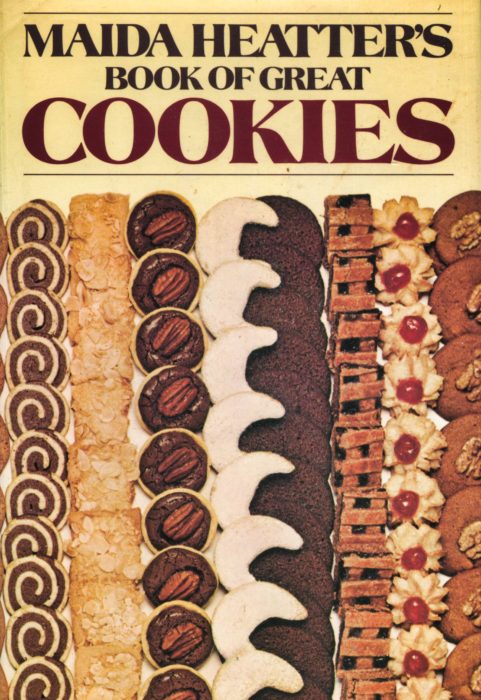 What if you could only have one cookie cookbook? Then I think you might well consider this book form 1977. Author Maida Heatter is now 101 years old, an American treasure. Her dessert books are still sold, still used, still loved. I've posted this review in the past year. Why again? Because when I want a cookie, a really sumptuous great cookie, this is the first book I pull from the shelf. The first.
This book surely reflects its forty years. There are no color pictures, just lovely small black-and-white drawings. The recipes are assigned one to a page. They ramble across pages, sometimes two or three pages long as Maida gives you're her most detailed instructions. This was the first cookie book I had that was so highly specific in "do this" and "add that." It seemed intimidating for the first recipe or two. Then, I ate the cookies. Now, I still bake from the book and I follow the recipes to the letter.
There are six chapters here:
Drop Cookies
Bars
Icebox
Rolled
Hand-Formed
Et Cetera [little specialties you don't want to miss]
What buried treasures are here. First and foremost, Maxines, the Christmas cookie Suzi and I do every year. But there's so much more:
Dark and Light Rocky Roads [brownies with marshmallow and nuts in two versions]

Giant Ginger Cookies [filled with many spices including, yes, mustard!]

Sour Cream Ginger Cookies with White Glaze

Spicy Pumpkin Rocks [cinnamon, nutmeg, ginger, cloves, allspice!]

Banana Rocks [cinnamon, nutmeg, ginger, raisins, dates, prunes, walnuts and, oh yes, bananas plus oatmeal]
Somewhere in this book there will be a cookie with the flavors, the size, and the texture you want. If you are not sure about a recipe, heck, make it, try it, and quite possibly you discover a new cookie friend.
This book is a classic and you really are missing out on life if you don't study the classics. And eat them!