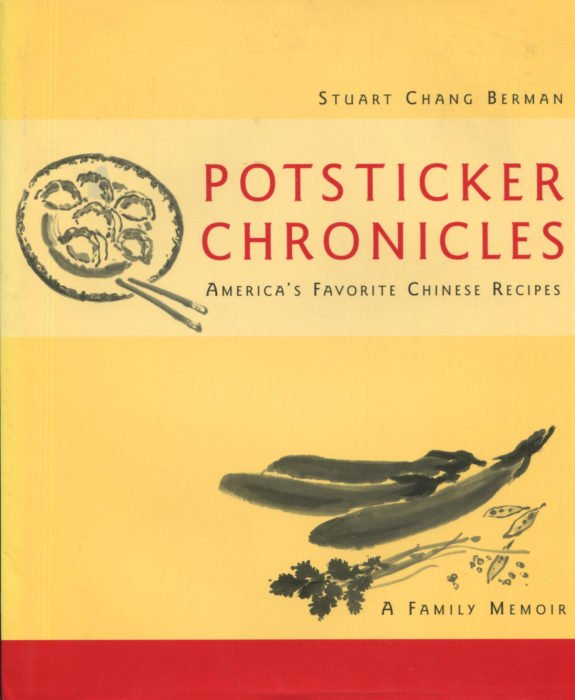 In 2004 Stuart Chang Berman wrote his only cookbook: Potsticker Chronicles. The subtitle here is: America's Favorite Chinese Recipes. Berman would know about favorites. He spent decades running Chinese restaurants in Washington, D.C. and simultaneously teaching Chinese cooking at the Montgomery County Adult Education program in Maryland.
That background has given Stuart a marvelous perspective on how to teach people about cooking Chinese food in an American home kitchen. He knows what we like to eat at Chinese restaurants, and he's spent years learning himself how to teach people the nuances of a favored but very foreign cuisine.
The "chronicle" part of this book is a series of interludes where Stuart describes his life and family. He had already earned a Masters in History at Rutgers and was considering a Ph.D. when two things happened. The job prospects for Ph.D.'s looked bleak and his mother became ill. Off he went to work in his mother's restaurant. He never put down his apron.
Born in New York City, Stuart began life by speaking Chinese. That fluency and his love of food means he's quite at home discussing the dishes from across China. His headnotes to recipes deftly describe the characteristics of Hunan versus Sichuan, for example.
The "potstickers" part of the book comes in a chapter late in the book devoted to the stickers plus noodles, spring rolls and rice. This chapter is worth buying the book for itself. Stuart shows you how to use store-bought wrappers or to make your own. Then come the fillings:
Beijing Pork and Chinese Celery Cabbage
Lamb and Squash
Shrimp and Crab
Lobster and Scallop
Beef and Tomato
Vegetarian
The recipes here vary from the quick and instant, Sweet and Sour Shrimp with Red Lollipop Sauce, to the most complex, a Stuffed Venison Roast that must be marinated with the meat turned every few hours. Stuart's restaurant crew worked 24X7 for some of these dishes. He's giving you that complexity here, knowing that a home cook can't do it exactly that way but wanting to give you the details of the "complete" process for the dish. Authenticity is replete in Potsticker Chronicles.
On the fast side, there are lovely and easy soup dishes any of us could prepare: Crab and Asparagus, Hunan Honey Fish, even a Hot and Sour he says is the best but does not involve 40 ingredients and hours of prep.
Yes, there are recipes for General Tso's Chicken and Orange Beef, both American favorites, but presented her with deftness. Stuart describes how to get the dishes right, with the correct inner tenderness surrounded by that exterior crunch we all love.
Many of the recipes read like a restaurant menu, terse and contrasting: Pork and Green Beans, Ground Beef with Peas and Onions, Scallops and Snow Peas. And, as the recipes progress in complexity, you'll see the need for a wok and some oil. Many of the dishes are stir-fried, a technique essential to the soul of the dish.
If you are wok-phobic, there are plenty of ideas, like that Stuffed Venison Roast, that you can turn to. If you want to master Chinese cooking, though, then you need to find that wok you have stored away and dust it off. Or buy one.
This book is truly a course in Chinese cuisine. You can take the baby steps, like with those soups, and work your way up to the level of steaming wok and sizzling beef. Potsticker Chronicles is a charming book that deserves your consideration. Lamb and Squash Potstickers!