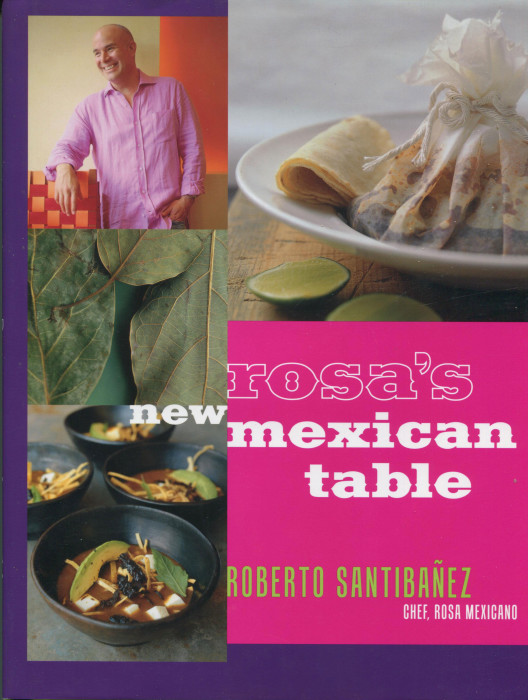 Sometimes you can judge a book by its cover. Take Roberto Santibanez's Rosa's New Mexican Table from 2007. The lovely and lively pink, purple, and green of the book cover tells you right away, "This is Mexican."
And great Mexican. When the book was written, Roberto Santibanez was the chef for the wonderful New York City chain of restaurants Rosa Mexicano. There are about a dozen of them now, siblings of the original that is almost 30 years old. Suzi and I are lucky because the latest branch has opened up just six blocks from us. It's great, authentic food.
This book reflects the Rosa-style recipes from a decade ago and they are recipes that you will want to enjoy for the rest of your life. Mexican food, great Mexican, is a wonderful blast of colors, flavors, textures and aromas that embrace you from the first bite. And sophisticated, as sophisticated as those Paris wonders you may have sampled.
At the end of this post is a picture of Trout with Wild Mushrooms Cooked in Foil and Corn Husks. There is serrano chile, epizote stalks, and onion added into the mix. It looks too pretty to eat. Well, maybe for a second.
This book has a wide array of ideas for you, form the simplest to the complex. Here's a sampling:
Green Salsa made with raw tomatillos

Cooked Green Salsa – to pair with that raw version

Pickled Jalapenos

Roasted Poblanos with Cream

Seared Duck Breast with Pecan-Prune Mole

Adobo Rubbed Chicken Steamed in Parchment Paper

Ancho Chiles Stuffed with Beef Tenderloin, Shitakes and Cremini

Passion Fruit Margaritas
Great dining is a pleasure. And to achieve pleasure can sometimes seem intimidating. The joy of this book is that true pleasure is within reach. The recipes take a page, no more. The ingredient lists are modest. The techniques are happily basic.
There are simple classics here, lots of those tacos you associate as essential Mexican. But the greatness of this book is in those stuffed ancho chiles, the seared duck and the perfectly pickled jalapenos.
To add sparkle, color and vibrancy to your life, take a spin with Rosa's New Mexican Table. There is nothing better. And, Roberto does have other cookbooks you may want to explore. He's a superior chef and writer, a man who can transport your kitchen right to the mountains, deserts, and seashores of Mexico.