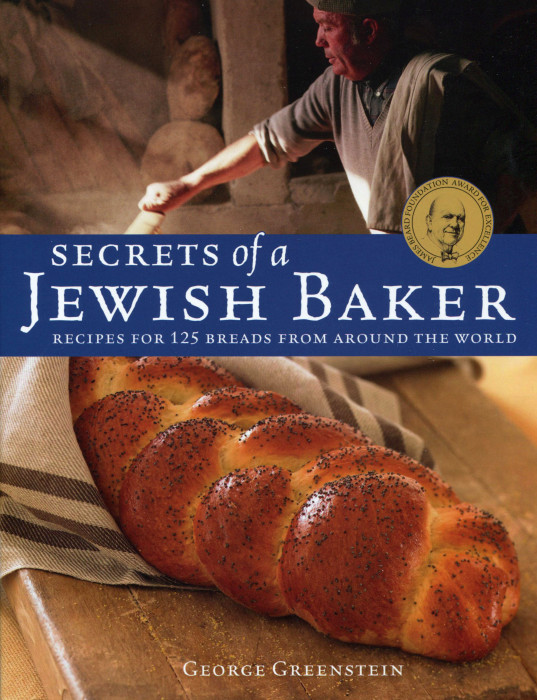 I recently reviewed A Jewish Baker's Pastry Secrets by George Greenstein. George had passed away but his family gathered up long lost notes and assembled this book for publication in 2015.
In 2007, while still working, George published a first book, Secrets of a Jewish Baker, with 125 recipes reflecting his more than 20 years of charming baking in a Long Island spot that was a local institution. The book won a James Beard Foundation Award for Excellence. George was a third-generation baker. His family began as itinerant bakers in Eastern Europe. Those were days of roads that were either dust or mud and a baker carried his gear on foot or, with a little luck, by cart.
George was thrilled to have a real brick-and-mortar bakery and must have marveled at the transition from one generation to another. The secrets here are divided into chapters devoted to:
Basic Materials

Bread Making A to Z

Basic Yeast Bread: Milk Breads made with Straight Dough or Sponge

Corn and Potatoes: Seeds of the Americas: Honey Oatmeal, Portuguese Corn, Potato Rye with Onion and Caraway

Breads of All Nations: Cottage Cheese and Chive, French Onion, Irish Raisin, Naan

Sourdough Breads: Jewish Rye, Sourdough Potato Rye with Caraway, Sourdough Barley

Rolls: Hungarian Salt Sticks, Bialys, Zatar Herbed, Flat Onion

Biscuit and Muffins: Onion Cheese Biscuits, Hawaiian Good Morning Muffins, Corn and Molasses Muffins

Quick Breads: Wine Loaf, Sour Cream Loaf, Cinnamon Citron Bread, Date Nut Bread
Some of these recipes are ones George inherited from his family. Some are wonders he fashioned in this new world with its rich diversity of ingredients. All the recipes reflect hundreds of iterations and improvements over the years as George satisfied his Long Island clientel. Each of these is a master recipe, literally honed to George's sense of baking perfection.
Reflecting that baking is not just cooking but science, the recipes here are usually two pages long with detailed instructions. You have separate schemes for using a food processor with the steel blade or a stand mixer with its flat beater and dough hook. Whichever way you feel more comfortable, or whichever way you want to start out, George's simple, clear instructions are there to lead you along from flour to feast.
It's rare now for someone to work for decades and then, and only then, put on paper all the insights and skills that have been learned through literally thousands of pounds of dough. George gave us this gift in Secrets of a Jewish Baker. They are secrets no more. They are yours.