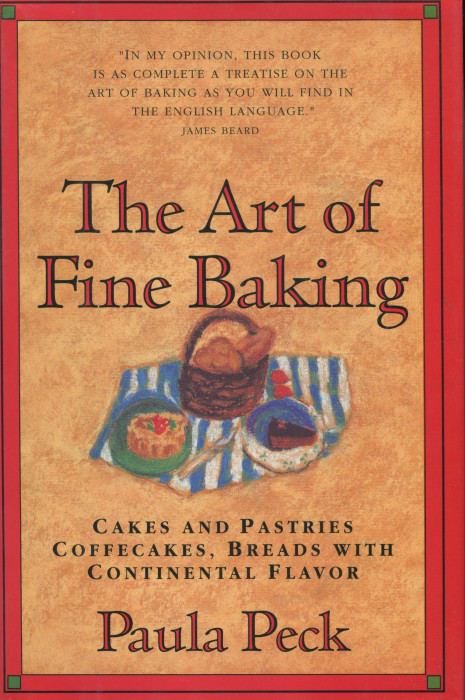 Paula Peck wrote only cookbooks but they established her fame most solidly. She studied under James Beard and lived in New York City in the 1960s, a period when there were those new "foreign" restaurants serving French and Italian food. Paula was self-taught and spent years carefully trying, testing, sometimes failing, and ultimately conquering recipe challenges.
The title of this book, The Art of Fine Baking from 1961 and her Art of Good Cooking from 1966, displays an important trait. This book does not claim to be the best or the ultimate or superior. It's "fine" baking. Good baking. Good home baking.
The book is extensive, particularly for one written over 50 years ago. James Beard called this volume: "This book is as complete a treatise on the art of baking as you will find in the English language."
Art of Fine Baking reflects a structure and style that have long disappeared. There are no full color photos. No photos at all. But there are pages of simple line drawings, so you learn how to make a croissant in simple black and white. And there are not that many "distinct" recipes. This is a book literally about manufacturing desserts, about making your kitchen resemble a French patisserie.
There are some basic recipes, like Genoise, and then page after page of variations. There are six categories of cakes, tarts, and fillings in the book but with oh so many options:
Genoise: lemon, orange, nutted, nougat, chocolate
Spongecake: whole egg, basic, chocolate, spiced
Fillings: poppy seed, ground nut, orange, cheese, prune, raw apple frangipane, orange honey, almond cream, apricot cream, apple custard, potato cream [mashed potatoes, cream cheese, sour cream, orange and lemon rind, butter crunch, streusel
Frostings: quick blender butter cream, simplest buttercream [made with simple syrup], chocolate or mocha buttercream, classic egg yolk butter cream, meringue butter cream, chocolate or nougat or walnut rum or coffee or chestnut or lemon buttercreams
Torte: black bread, Paris Brest, Swiss crisp, Swiss rolla, nougat, pineapple, frozen strawberry cream, linzer torte, Dobosh, filbert, toasted almond, walnut, mocha, lemon
Tarts: apple, rhubarb, plum, peach, pineapple, strawberry, blueberry, fresh grape, mincemeat, frangipane, lemon meringue, lemon cream, apple custard, sour cream cherry
Paula dug as deeply into the French culinary gold mine as did, say, Julia Child. So you see idea like that Fresh Grape Tart. Or that Prune Filling. Do we make cakes any more with "fillings?" No, we slather on the buttercream, and there are buttercream ideas here aplenty, but fifty years ago, there was this other dimension, fillings, to separate the layers of light cakes to forge a complete dessert.
No, you won't find Devil's Food Cake here or Banana. No dense layers filled with sour cream and melted chocolate. The cakes here are light and delicate. The flavors tend to be fruity or nutty. And there are surprises: that potato filling with mashed potatoes and cream cheese. I cannot quite imagine what that cake will taste like but, neither, can I get the concept out of my mind. One of these weekends I am going to surprise my wife. Do you think that she'd go for potato filling on Mother's Day? There is only one way to find out. She loves prunes, too, so I think I may bake a backup!