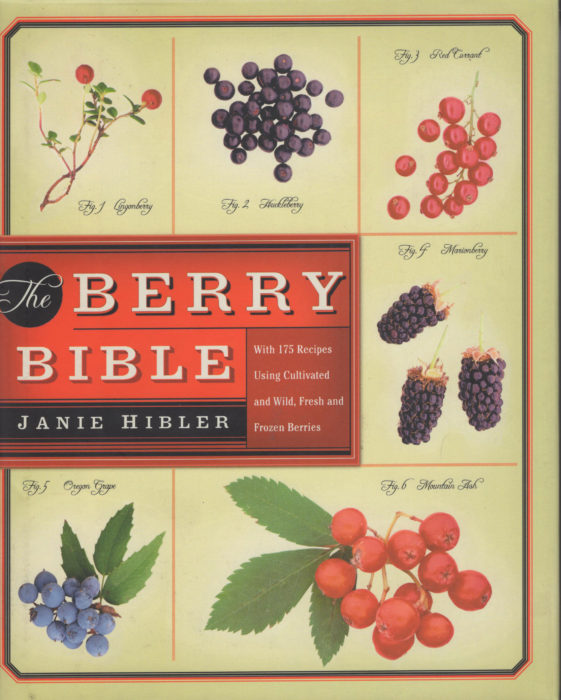 Janie Hibler is a Northwest author of distinction. You can find berry books here and there but nothing has ever matched this 2004 tome. You know this an exceptional book right there in the first chapter: The A-to-Z Berry Encyclopedia. Yes, we all know about strawberries and raspberries. But how about:
Arona or Black Chokeberries
Olallie Berries [cousins to blackberries]
Blue Honeysuckle Berries
Cloudberries
Jostaberries
Thimbleberries
Janie explains all those berry types — and of course the "regular" ones — so you know their history and their availability. And how to use them if you are lucky enough to score a quart of Jostaberries.
Then come nine chapters telling a bounty of ways to enjoy them:
Coolers, Cocktails, Smoothies and Other Drinks
Breads
Soup and Salads
Main Courses
Sauces
Ice Creams, Sorbets, and other Frozen Treats
Pies, Tarts, Cobbler, and Such
 Cakes
Pastries, Pudding and Other Sweet Treats
Wait a minute! Breads? Main courses?
Yes, consider these ideas:
Brioche French Toast with Sauteed Strawberries, Raspberries, and Blueberries

Ginger Scones with Lemon-Blueberry Filling

Raspberry and Marcona Almond Coffee Cake
And for the mains? Well, we have:
Prosciutto Prawn with Huckleberry Balsamic Glaze

Panfried Quail with Sage in Huckleberry Sauce

Hot Smoked Turkey with Blackberry Barbecue Sauce

Jalapeno-Stuffed Leg of Lamb with Blackberry-Chile-Mint Preserves
Oh, you'd rather just drink your berries. Then you can choose among:
Loganberry and Cantaloupe Smoothie

Papaya-Strawberry-Banana Smoothie

Blackberry Martini with Vodka and Triple Sec

Sicilian Strawberry Liqueur
There is an elegance and a sophistication in The Berry Bible that has easily withstood the test of time. This is book to enjoy throughout the year, but surely now as the berries deliver the final punches of summer heat and sweetness.