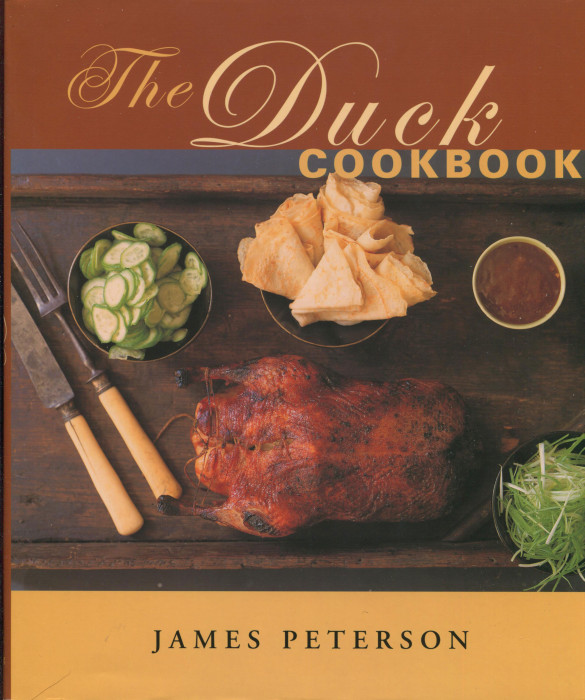 Sometimes a person takes on a noble battle. They know they cannot win. But they also know they should.
James Peterson is famous for a raft of cookbooks, including Sauces and Splendid Soups. In 2003 he wrote The Duck Cookbook. Each year the average American consumes 92 pounds of chicken, and just 1/3 pound of duck. Look at this book and you will wonder why. There are myths about duck: it is fatty, it is hard to work with, does not taste like chicken, … This book explodes those myths, with sections on the proper techniques for carving and cooking. Duck really isn't hard at all. Oh, and it is not a myth: duck does not, thank God, taste like chicken.
In nine chapters, Peterson covers a full array of cooking and presentation methods for duck:
Sautéing
Braising
Roasting
Confit
Smoking
Curing
Soups
Salads
Terrines and Mousses
Along the way, Peterson visits every continent except Antarctica. Every culture, every great food culture, appreciates duck. Here are some familiar ideas:
Duck á L'Orange [no, it is not a cliché, it is delicious]

Duck Confit

Pappardelle with Duck Sauce
But then there are the ideas may sparkle like new stars for you:
Duck Confit Enchiladas with Green Sauce

Duck with Chihuacle Negro Sauce, Raisins and Almonds

Duck Leg Tagine

Crispy Sweet-and-Sour Orange Duck

Duck Confit Spring Rolls

Tea-Smoked Duck Breasts with Sichuan Pepper Marinade and Soy Glaze

Duck Prosciutto

Chinese Hot and Sour Soup with Duck

Wild Mushroom and Duck Confit Feet Salad
These are recipes in the classical Peterson style: sophisticated, elegant but approachable by the typical American cook. Peterson's writing style is superlative, so nothing in this book even remotely seems formidable. Yes, some of the recipes have more than six ingredients, and some will take a little time. But the payoff will be sumptuous.
The Duck Cookbook has some of the best food photography you will ever encounter. It is a beautiful and enticing book. I know you probably cook chicken and I bet you have never tried duck. Somewhere in The Duck Cookbook is your new feathered friend. This is an overlooked cookbook that deserves your attention and will reward you with every dish.
The final picture here is the Duck Confit Enchiladas with Green Sauce. I defy you to resist.