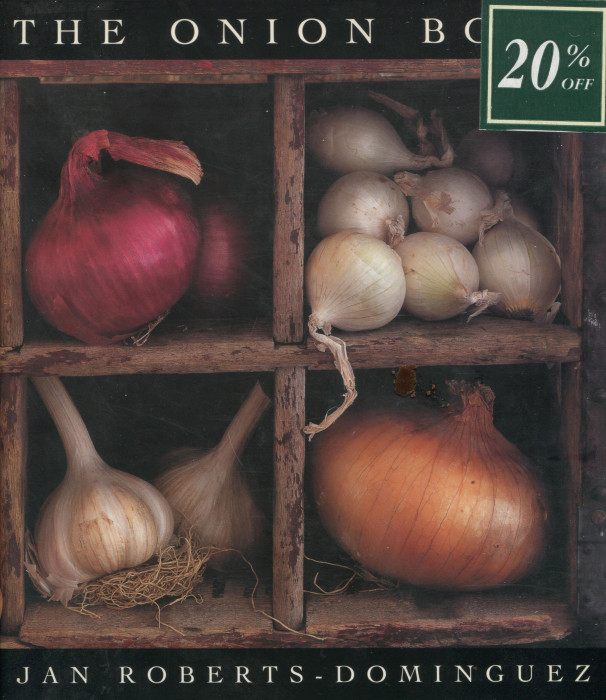 "DON'T," my wife said with a more than a little force in her voice.
I halted, the object just an inch from my open, salivating mouth. What sin was I, a Type 2 Diabetic, about to commit: a brownie, some ice cream, half a Snickers Bar?
It was a scallion. A simple little scallion. A for-the-love-of-god scallion.
"Your breath," she added.
"I'll do mouthwash," I said.
"Doesn't help."
Maybe this is why I don't have friends.
I love onions. Raw or cooked, from breakfast through dinner. Onions seem to make everything just a little, or a lot, better. We often can take onions for granted, considering them as basic an ingredient as salt and pepper. Rarelyh, we can make them the main feature: an onion stuffed with meat or veggies or cheese or everything.
Twenty years ago Jan Roberts-Dominguez wrote The Onion Book and we got out copy a couple of years later. You can see that old Barnes and Noble 20% off sticker in the top corner! The book is organized into chapters for the four seasons, actually the transitions from one season to the next:
Spring into Summer
Summer into Fall
Fall into Winter
Winter into Spring
I like that break down because I rarely feel as if I am "in" some single season. I alway feel as if I am coming off of spring into summer or I can sense that fall is drifting into winter. Literally drifting.
There are ideas in this book that are very simple. We all love onion rings but how about onion rings with no frying. Her Fresh Sweet Onion Rings with Mint is made by putting onion slices in rice vinegar, sugar, mint and chiles. In 15 minutes, you have an instant and refreshing appetizer.
At the other end of the spectrum, onions are just that bold addition to her Chicken Salad in Sesame with Poppy Seed Vinaigrette with Caramelized Almonds. The dressing is sesame and poppy seeds, with onion, plus Worcestershire sauce and paprika. Is the onion absolutely necessary in something so complex? Well, maybe not exactly necessary. But I would be reluctant to make this recipe without it.
Other recipe ideas here include:
New Potato, Smokey Ham, and Sweet Onion Gratin

Pennsylvania Dutch Sweet and Tangy Onions

Shrimp and Caramelized Onion Salad with Citrus-Jalapeno Vinaigrette

Southwest Chile Mashed Potatoes with Corn, Cumin, and Shallots
Not your standard recipes by any means, and delectable at first read.
Suzi's cooking school, Cooking by the Book, means we buy onions by the bagful. On weekends, when the classes are done, and the leftovers are stacked about the kitchen, we often ask ourselves what to make. The Onion Book is always a favorite starting point. While we make the Wild Rice Salad with Smoked Sweet Onions and Smoked Turkey, we share a bourbon and munch on those Fresh Sweet Onion Rings in Mint.
Onions may not be vital, just essential. I googled and, thank goodness, there are no onion brownies recipes out there. Although, you can find a Sweet Onion and Apple Upside Down Cake recipe somewhere on the web. Me? I'm sticking to the onion rings.