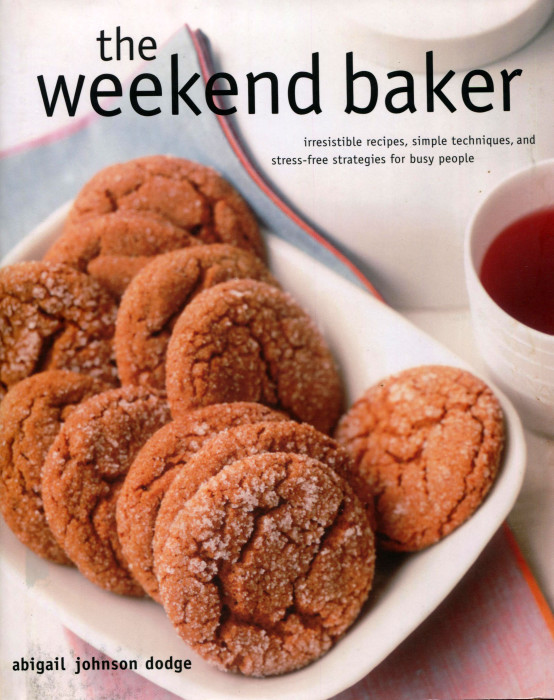 Abigail Johnson Dodge is a prodigious author. You'll see her latest book, The Everyday Baker: Recipes and Techniques for Foolproof Baking, this coming December. This book, The Weekend Baker, 2005, has the perfect subtitle: irresistible recipes, simple techniques and stress-free strategies for busy people
That is in a nutshell the perfect description of this serious book. We all like baked goods and many of love to bake them rather than buy. But, home baking on Tuesday or Thursday night is often just impossible. And then, on the weekend, we want to bake but we have to shuffle the kids to that soccer match, and there is a birthday party, and … And. And.
So even if we find a time window to make something, we are already stressed and pressed. Making something irresistible seems a very distant, if not impossible, goal.
Consequently, this book is not organized around cakes, cookies and pies. This book is organized around time. Do you need to make something quickly? Can you take time to make components in advance and then do final assembly on Saturday afternoon? Do you have a whole day to just be in the kitchen and make something that is a marvel?
The three chapters in this book are devoted to Baker's Express, Baking in Stages, and Productions. In each of these chapter you'll find a variety of recipes satisfying your time opportunity:
Cookies and bar
Cakes, large and small
Breads
Mousses, Custards, and Puddings,
Pies and tarts, cobblers and crisps
What's a Baking in Stages dessert look like? At the bottom of this post, there is a picture of one: Old-Fashioned Berry Icebox Cake. You can make this dessert in stages by preparing the fruit up to 3-days in advance and the cake can be made and refrigerated for up to 3 days, too. On Dessert Day, it's a matter of assembly and assembly is just putting fruit on top of that icebox cake richly composed of chocolate wafers layered with whipped cream.
The Express recipes include these truly irresistible ideas:
Prescription-Strength Fudge Brownies

Nutty Cinnamon Elephant Ears

Warm Cinnamon-Spiced Blueberry Cake

Pecan-Crusted Pumpkin Squares

Minted Mango Fool with Lime

Cinnamon-Sugar Dumplings with Strawberry Sauce
Those Baking in Stages ideas include:
Three-Bite Whoopee Pies with Vanilla, Chocolate, and Peanut Butter Fillings

Apricot-Pistachio Biscotti

Rich Orange Butter Cake with Citrus Wedges

Crumble-Topped Pear-Rub Raisin Pie
The Production recipes are all-out, full-blown dessert marvels:
Chocolate-Dipped Macadamia Brittle

Mocha-Cinnamon Chocolate Chip Cookies

Chocolate-Glazed Ricotta Cake

Overnight Brioche Braid
The Weekend Baker is written for us lovers of crust, crumb, chocolate and fruit. The recipe titles do give you some hint of the elegance you will find on these pages. And, to achieve that elegance, the recipes are presented in serious detail. These are two, three and four-page recipes where you are gently, authoritatively led by the hand. You start with flour and butter and more, you end up with a creation that deserves all pride you will feel.
There are recipes here to keep you very busy for a couple of years of weekends. And then, you'll probably roll back to page 1 and happily do this book all over again.