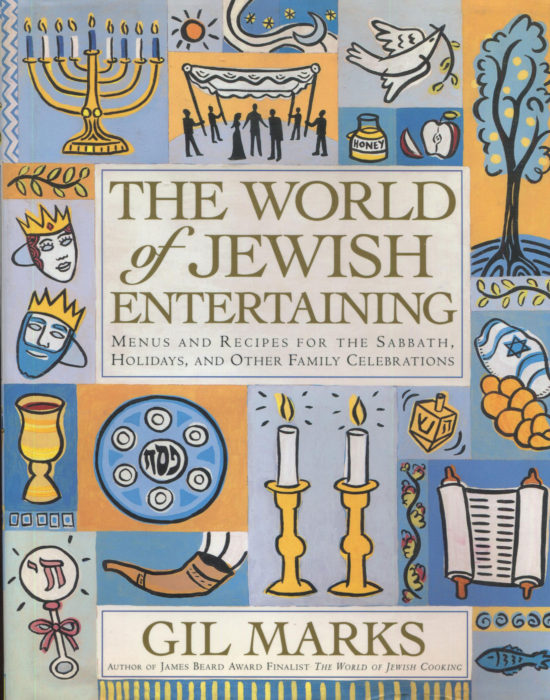 For twenty years Gil Marks has led us on journeys deep into the details of Jewish food. This 1998 book, The World of Jewish Entertaining, was the first step in that journey. There are four others and you'll see them reviewed here in the coming year.
Jewish culture shares, with all others, a love for holidays and celebrations. This book has just two main chapters:
The Holiday and Sabbat Table with 18 sections [like A Hanukkah Part, A Purim Feast, A Sephardic Seder, An Ashkenazic Seder]
Family Celebrations with 9 sections [like A Boy-Naming or Brit Breakfast, a Bat Mitzvah Buffet, A Middle Eastern Wedding Shower]
And there's a third chapter, The Baker's Bible, with ideas for cookies, cakes, quick bread, and muffins.
With this organization, there is no single place to turn to for main courses or side dishes or many of the desserts. Instead, you'll need to — and you'll want to — investigate these 400 pages. Take a couple of hours, have a cup of coffee, and stroll. Here's a top ten list of wonderful ideas hidden amidst the feasts and celebrations:
Fruited Challah [raisins, walnut, dried apricots, and dates]

Moroccan Pumpkin Soup [chickpeas, honey, cinnamon, allspice, nutmeg, cloves]

Syrian Stuffed Carrots [stuffing of lamb, rice and allspice]

Apple-Glazed Roast Turkey with Biblical Fruit Stuffing [stuffing blogged here]

Cherry-Glazed Chicken

Spice Sandwiches [spice sandwich cookies!]

Moroccan Lamb Stew with Prunes

Northwest African Gilled Vegetable Salad

Sephardic Pumpkin Empanadas

Jerusalem Artichoke and Egg Salad
I've made this selection carefully for you. Some folks have not had any Jewish food and might be a tad reluctant to take a dip. These recipes are not "too ethnic" and should entice anyone for a test taste — probably followed a total gobble of the entire dish. These dishes are "normal" in that they use ingredients most of us are familiar with — well, you should know about Jerusalem Artichokes. It is the combinations and the preparation techniques that give you surprises.
For example, I love empanadas filled with spicy beef and potato. Pumpkin? Wow, that makes me think and makes me want to experiment.
Some of the recipes here are classic Jewish fare. Some are from the far reaches of the planet, like India, and have been adapted for a kosher kitchen. Their presentation here is written with poise and care. Ingredients are written blue ink, so they pop off the page at you: garlic, cinnamon, figs, chicken livers, broth, and even jicama make appearances in this book. They should be appearing on your table as well.
Oh, those muffins? You might want to look at the Kitchen Sink Muffins: cinnamon, apple, carrots, zucchini, raisins, dates, almonds, coconut.