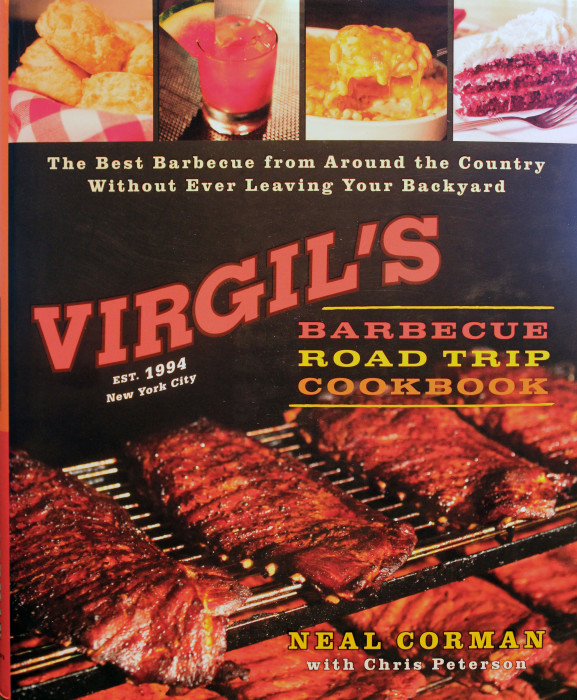 Barbecue joints arrive weekly in Manhattan. This gem has been around for a quarter century and is still the best. Easily the best. Their cookbook is superior. So are their baked beans which I'm about to do as TBT Recipe post!
In New York City, just a half block off of Times Square, is an American culinary institution. Virgil's Barbecue was opened in 1994 by Artie Cutler. At the time, it was the first major barbecue spot in Manhattan. A generation later, the city's restaurant landscape is dotted with 'cue spaces, in Manhattan and across the rest of the city and the suburbs.
Twenty years in we have the first cookbook: Virgil's Barbecue Road Trip Cookbook. Barbecue and road trip?
Barbecue was not native to New York City, although it seems that way now. To create Virgil's — and no I don't know why it's called Virgil's and not Artie's — Artie went on a long road trip in the early 1990's, months on the back roads of the South exploring every barbecue spot he could find. His mission: find the regional specialties and find the very best of those. Then make those dishes in New York City so us city folk could understand what we've been missing. More 'cue. Less French.
In Artie's world the American barbecue landscape is historically divided into four regions: the Carolinas, Texas, Memphis, and Kansas City. If you've been to all four, then you already know how very different and very specific each locale is:
The Carolinas feature the whole hog, dripping with sauces whose purity is a matter of religion
Memphis where it's just the ribs, not the whole hog, and served with dry rib and no sauce, oh, dear, no sauce at all
Texas where the ideal meat is beef, actually brisket, again cooked long and dry
And Kansas City, the last great center of barbecue to emerge, and one that incorporates the best of all the worlds: hogs and beef and chicken all rich with sauces; you never get your hands clean
In Virgil's in Times Square, you'll find Artie's selection from those regions, wonders like those Memphis ribs, Texas brisket, the best baked beans on earth, Georgia pecan rice, and East Texas Catfish.
There are just under a hundred recipes in Virgil's divided into chapters for:
Starters and Salads
Drinks
Sides
Rub, Marinades and Sauces
Beef
Pork
Poultry
Seafood
Sweets
The drinks are intended to make you sit down, ready to eat. They are big and bold: The Spicy Habanero made with spiced tequila or the To-Die-For Daiquiri with bitters and strawberries.
Starters include Lump Crab Cakes, Grilled Chicken Caesar Salad and Savannah Salad with Hot Bacon Dressing. Beware here: these dishes are so divine you'll be tempted to chow down, and there will be no room for that barbecue!
The side dishes include Virgil's wonderful corn muffins, made with buttermilk and combining cheddar cheese, fresh corn kernels, scallions and cilantro. There has to be a Fried Green Tomato, of course, but this one comes with Shrimp and Crab Remoulade. The Beer-Batter Onion Rings offers you a batter replete with lots and lots of seasoning: cayenne, paprika, lemon pepper, garlic powder, onion powder and basil. From personal experience at Virgil's [many visits], I will tell you that this is the destiny God has intended for every onion.
The chapter on Rubs, Marinades, and Sauces is a perfect reason to buy and learn from and surely cook from Virgil's. We all know that Carolina barbecue featuring vinegar sauce. Here you'll find a recipe that is the best one discovered by the Virgil's team. There's a dry rub here if you are a Memphis fan. Interested in fiery and superior fried chicken? Then you'll love three recipes here that are needed for the final dish: a buttermilk marinade, a spice mix, and a spicy herb flour mix for crusting the chicken. Virgil's fried chicken has layers and layers of flavor and here you'll learn why.
The Beef chapter will please anyone fond of cows. It begins with brisket and transcends to brisket hash and brisket melt, a gem relished by barbecue fans instead of a mere patty melt. The hidden gem in the chapter is actually designed for a New York City deli: smoked pastrami with a marinade including molasses, garlic, ginger, coriander, fennel, pepper, allspice, and cloves. The team at Virgil's have, as this recipe shows, taken great effort to translate their restaurant-scale recipes to what you can do successfully in your home kitchen.
The Pork chapter begins with that classic, Memphis-Style Spareribs. You'll find treatments for Baby Back Ribs and Boston Butt here, too. There's a bourbon and orange juice sauce to go on a cured ham as your create a slow-smoked ham that can be a weekend centerpiece.
Poultry offers Pulled Chicken, to match pulled pork, and then Kansas City Fried Chicken using all the buttermilk and spice concoctions from the earlier rub chapter. Again, from personal, hands-on experience, I can tell you that no better fried chicken exists. Yes, go all the way, and pair this chicken with mashed potatoes and gravy. After that meal, you don't walk out of Virgil's. You kinda slink towards the door. But, you are smiling.
The Seafood chapter pays homage to the coastal regions, Louisiana in particular. You'll find Shrimp Po' Boy and Jambalaya and that Texas catfish with homemade tartar sauce.
All the desserts at Virgil's are made at Virgil's. Now, they've graciously opted to share recipes for Sweet Potato Pecan Pie, Perfect Peanut Butter Pie and Down-Home Chocolate Chess Pie. These are heritage desserts, discovered on back roads and faithfully recreated each day by the Virgil's team. Now, you can become a Southern pastry maven yourself, and never cross the Mason-Dixon line.
I did not mention the introductory chapter on barbecue techniques. Author, and Executive Chef, Neal Corman provides you a clear and honest discussion. Neal can let you know if you are just a tad shy of being authentic. If you cook hot [350°F] directly over the fire, you are grilling, not barbecuing. Indirect heat at 250°F is barbecue. Yes, you can barbecue with a gas grill or conventional charcoal grill, but you'll need to follow the guidance in this lovely book. And smoking? Indirect, under 200° and it's a matter of hours, if not days.
I'm posting this review on July 1, 2014. There's a 4th of July weekend in three days. That's plenty of time to get this book, hit the meat counter, fire up the grill, and make the best holiday meal of your life.
Virgil's is a great institution. So is this book.