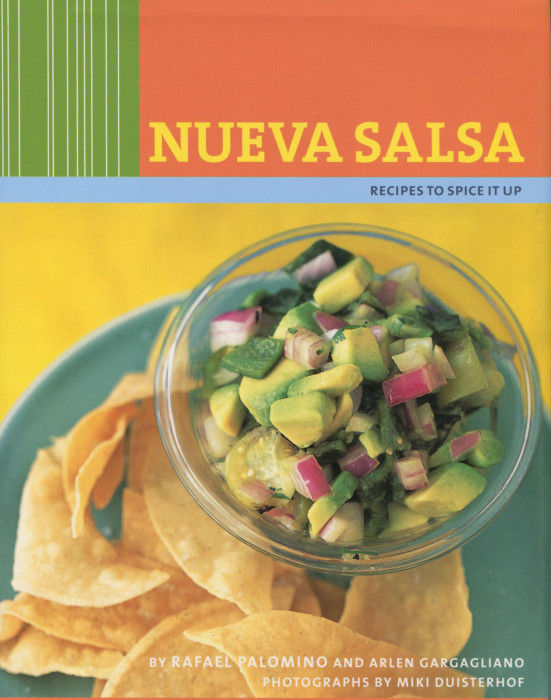 Some tomatoes. A little onion. A pepper, hot or hotter. Cilantro. A splash of vinegar, or tequila, to be exotic. Oh, and surely lime juice.
That's it. That is the salsa we know and love. We eat it by the mounds. We order when we are out, we make it at home. Thirty years ago, "salsa" was special. It's still special, but is now everyday as well.
There are, of course, other salsas. In 2003, Chef Rafael Palomino with Arlen Gargagliano wrote Nueva Salsa. It's still nueva and pertinent as ever.
That basic tomato and onion idea is here, but there are a hundred others and those others will have you chopping, mixing and dipping. Here are ten ideas that first caught my eye:
Blueberry, Papaya and Toasted-Almond

Cucumber, avocado and Serrano

Grapefruit, Cucumber and Mint

Grilled Yellow Tomato and Green Onion

Papaya and Poblano

Raspberry and Port-Rioja

Roasted Jalapeno and Citrus

Roasted Pepper and Basil

Tomatillo, Cilantro and Avocado

Roasted Beet and Carrot
That first one — Blueberry, Papaya and Toasted-Almond — is pictured below. It's one of the dessert salsas in the book. Yes, dessert.
Chapters are devoted to:
Fruits Salsas and Tropical Salsas with dominant fruit notes activated by peppers
New Exotics where eggplant and quinoa appear alongside tropical fruits
Tomato Salsas offering raw and roasted ideas
Vegetable Salsas where fruit is absent and veggies are everywhere
Chile Salsas with heat aplenty
Bean Salsas that can double as a salad
Dessert Salsas if your day has been salsa deprived
This is a simple book. Salsa recipes are short, often sweet, sometimes hot, and always intense in flavor. If an idea here seems a touch odd, like that Roasted Beet and Carrot, what the heck? These recipes can be knocked off quickly. If you find one you love, you have a new tablemate. If you find one you really love, then your family and guests will have a new "best" appetizer.
If cooking for you is fun, then here's a new playpen for you. All you need is Nueva Salsa and some fruit or veggies or peppers. Or all three. If you really want to play, then you can take these ideas as templates and march down your own flavor avenue.