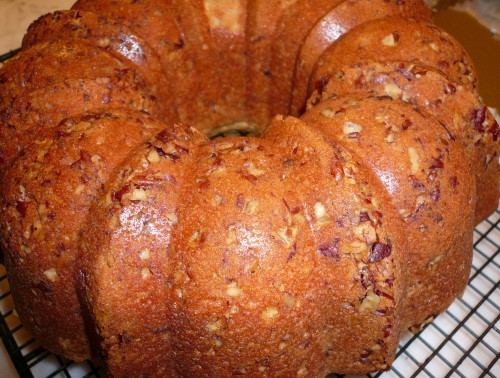 When I was a freshman at Reed College, everyone had to take a class called Humanities 101. The premise of the class was simple: in the past 3000 years Western civilization has created many classic works of prose and poetry — in this class you had to read every single one. It was two or three major tomes a week. After a month, most freshmen were dragging, discovering the utility of coffee, and scheduling visits to eye doctors.
My favorite work? Don Quixote, the tale of a noble man on impossible quests. I'm not claiming to be noble, but my pattern is to go on quests. And now, I have embarked on a new one, that I pray is not impossible. Twenty years ago in Manhattan, Balducci's, the great Italian food store, sometimes, but not always, had a small rum cake. Moist, soft, intense in flavor. And sadly baked, it was rumored, by some little old lady out on Long Island. Balducci's closed. We never got the recipe.
And now, I crave a great rum cake. No, I specifically want that Balducci's cake. So I've begun looking. This first attempt is from a bakery in Fredericksburg, Texas. Isn't that a long way from Manhattan? Yes, but you see Central Texas in the late 1800's was a mecca for immigrants from foreign lands. There were many waves of Germans, who established whole towns in the Hill Country. And there were people from other lands, certainly Italy, spilling into the Texas landscape. I hoped that this bakery's excellent book, The Pastry Queen, would supply "the recipe."
Bad news and good news. This is NOT the recipe of Balducci's. Good news, if you never had Balducci's, you might well stop here. This is a wonderful cake, not too rummy at all, that becomes better on Day 2 and best on Day 3. Better yet, you can wrap this critter up, freeze it, and use for a party or a weekend night when your cravings begin to itch.
This cake is fine by itself, cold or warm. It can be graciously partnered with ice cream or whipped cream — ah, think whipped cream flavored not with vanilla but a solid dash of rum, brandy, or other liqueur. Do follow the instructions to butter the Bundt or tube pan and then coat with the chopped nuts. You'll get that very interesting cake surface: deep brown with chaotically scattered nuts.
This is a BIG cake. You can enjoy some tonight, more slices tomorrow, then freeze half for that next distant event. It's cheating a bit that way, but then you can be sure that your Don Quixote quest will be successful.
Totally Rummy Pound Cake
Yield: 12+ servings
Ingredients:
For the cake:
1 ¼ cups pecans
1 cup (2 sticks) unsalted butter, at room
temperature
2 ½ cups sugar
5 large eggs
3 cups all-purpose flour
1 teaspoon baking powder
½ teaspoon salt
⅔ cup sour cream
1 tablespoon vanilla extract
½ cup dark rum, such as Myers's
For the glaze:
¼ cup (1/2 stick) unsalted butter
½ cup water
½ cup sugar
1 tablespoon freshly squeezed lemon juice
¼ cup dark rum, such as Myers's
Preparation:
Preheat the oven to 350 F. Grease a 10 inch tube pan or 10-to 12-cup Bundt pan with butter or cooking spray.
Arrange the pecans on a baking sheet in a single layer and toast them in the oven for 7 to 9'minutes, until golden brown and aromatic. Cool the nuts for 5minutes. Coarsely grind ¼ cup of the pecans in a food processor fitted with a metal blade. Coarsely chop the remaining 1 cup of pecans.
Sprinkle the greased pan with the ground pecans and shake n until the pan is lightly coated with nuts. Hold the pan upside down, invert over the sink and tap lightly to discard any excess nuts. Using a mixer fitted with a paddle attachment, beat the butter on medium-high speed about 1 minute, until fluffy. With a rubber spatula, scrape down any butter clinging to the sides or bottom of the mixing bowl. Add the sugar and beat on medium-high speed about2minutes, until incorporated.
Scrape down the bowl with the spatula. Add the eggs, one at a time, and continue to beat on medium-high speed 1 to 2 minutes, until the mixture is fluffy and light yellow in color. In a medium bowl combine the flour, baking powder and salt. Add one-third of the flour mixture to the batter and mix on low speed until the flour is no longer visible. Add half of the sour cream and mix on low speed until it is combined. Continue to add the flour and sour cream alternately, ending with the last third of the flour.
Stir in the vanilla, rum, and 1 cup coarsely chopped pecans
Spoon the batter evenly into the pan and bake about 1 hour and 20 minutes, until it springs back when touched lightly (if the top starts to brown too quickly, cover it loosely with a sheet of aluminum foil). Let the cake cool at least 15 minutes before removing it from the pan. Invert it onto a cooling rack, and then invert it again back into the pan and then from the pan onto a cake plate when cool.
As the cake cools, make the glaze. Stir the butter, water, sugar, lemon juice, and rum in a small saucepan over medium heat until melted and combined. Boil the mixture about 1 minute.
Transfer the cake to a serving plate and gently pierce the cake many times with a toothpick; or, if you want the glaze to penetrate more deeply, use a wooden skewer. Pour the glaze over the cake. Let the cake cool at least 1 hour before serving. The glazed cake can be frozen up to 3 weeks if well wrapped in a layer of plastic wrap and a layer of foil.
Dense pound cakes mellow if given time to rest after baking. If you have time, make the cake the day before serving, let it cool completely, and wrap it securely with plastic wrap. It will taste great at room temperature for at least 2 days.
Source: The Pasty Queen by Rebecca Rather and Alison Oresman