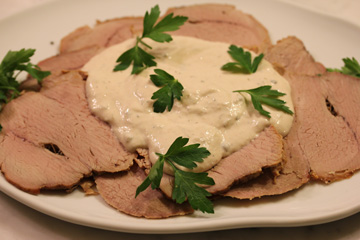 Many, many years ago, when I was first entering the food world, I had the great privilege to partake in one of Anna Teresa Callen's cooking classes. Anna Teresa orchestrated this masterful class in her classic West Village apartment. It was a doubly intoxicating experience. We had the wonderful smell of her cooking and the starry view of lower Manhattan from her balcony ten floors up.
One of the first dishes she taught this very small group of six was Vitello Tonnato. In my best Brooklyn "I thought I was gonna die." This dish was so good and so distinctive. Just say Veal Tonnato to me and my mouth is ready to bite. When I was looking over Jean Anderson's new book Falling Off the Bone and found this recipe I truly ran out to the butcher and fired up my stove to get started on this recipe.
Jean's has authored over 20 cookbooks and they adorn my bookshelves. She is one of those "must" authors who recipes inspire, offer superior taste, and present the home chef with no hurdles. In a fast food world, Jean has devoted this book to dishes that cook long and slow and that build with flavor hour by hour. Here you'll find wonderful recipes, both old favorites and some new wonders.
There are four chapters, each devoted to a serious meat: beef, veal, lamb, and pork. No chicken here. You find onion-smothered chicken-fried steak, Russian crumb crusted veal and beef loaf with sour cream gravy, Umbrian mushroom lamb and cannellini soup, and slow cooker pork ossobuco. If you love meat, or if you are tempted with ending a vegan lifestyle, then surely this is your pathway to satisfaction.
Veal Tonnato
[AKA Vitello Tonnato]
[AKA Cold Sliced Veal with Tuna Mayonnaise]
Yield: 4 servings
Ingredients for the Veal:
3 pounds boned and rolled veal rump, round or shoulder
3 tablespoons extra-virgin olive oil
4 large fresh bay leaves, lightly bruised to release flavors
1 teaspoon salt
¼ teaspoon freshly ground black pepper
1 cup chicken broth or a 50/50 mix of broth and dry white wine
⅓ cup coarsely chopped fresh Italian parsley
 
Ingredients for the Mayonnaise:
2 ⅓ cups mayonnaise
⅓ cup extra-virgin olive oil
¼ cup fresh lemon juice
3 cans (3 ounces each) chunk-light tuna (packed in oil)., drained and liquid reserved
2 tablespoons pan drippings (from the veal above; optional)
⅓ cup well-drained small capers (the tiniest you can find)
¼ teaspoon freshly ground black pepper
Preparation:
Pre heat the oven to 425˚F. Place the veal fat side up in a small roasting pan, rub well with oil, then with bay leaves, and sprinkle with salt and pepper. Drop bay leaves into the pan, slide onto middle oven shelf, and roast uncovered until veal begins to brown — about 30 minutes.
Reduce oven temperature to 350˚F, pour broth over veal, cover with foil, and braise until tender an instant-read thermometer thrust in the center of the veal register 150˚F — 1 1/3 to 1 ¾ hours. Remove veal from the oven, cool, then cover and refrigerate overnight.
For the tuna mayonnaise, whiz the mayonnaise, oil, lemon juice, reserved tuna liquid, and if desire, the pan drippings in a food processor or blender until smooth. Scoop in a nonreactive bowl and set aside. Finely mince the tuna and mix into the mayonnaise along with the capers and pepper. Cover and refrigerate overnight.
When to serve, remove the veal and tuna mayonnaise form the refrigerator. Remove strings from the veal, and set on cutting board. Slice as thinly as possible. Discard the bay leaves.
Overlap slices of veal on a large platter, spoon tuna mayonnaise generously down the middle, and sprinkle with parsley. Pas the remaining tuna mayonnaise separately
Source:  Falling off the Bone by Jean Anderson