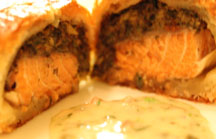 Are you bilingual? Multilingual? Then you have my admiration. Although I can read pretty well and sort of write in a few other languages, I never became fluent in speaking any of them. Never. I was always intimidated. I remember a Russian professor screaming at me because I could not pronounce something correctly. Well, look who won the Cold War, buddy.
I've tried French many times. It's a beautiful language, and now I have a niece who moved to Paris, married, and is about to have a baby. She majored in French in the US and after a decade in France simply sounds like a native. I speak French to her, and she originally began to help me, but now she is at the last of the 3 D's: disbelief, despair, and disgust. I have offered to help teach her child French. She will not give me her new address in Paris.
I just thank God that I grew up with English. It is the world language. And it's not just American money and military might that have created this dominance. The most important feature of English is the vocabulary. English has more words that any other language, more synonyms, more ways to convey nuance, more ways to entice.
If you have never looked at the Oxford English Dictionary, the famous OED, you should try. It is amazing how many words there are. And, equally, it is amazing how varied are the uses for a single word. For a single simple word. Like puff.
There's puff of air, puff of smoke, you huff and puff. There's Puff the Magic Dragon. And then, there is the dreaded puff pastry.
They say a married couple should never attempt to wallpaper a bathroom together. Now add making puff pastry. I have suggested it to Suzen, and seen a look of wariness that I really don't think I deserve. Simply put, making puff pastry is an art. Thanks to the new book Puff by Martha Holmberg, using puff pastry is artful, easy, and delicious.
Puff tells the story of both what puff pastry is and how to use it. Yes, there are recipes here to make your own puff pastry, and Suzen and I will ultimately do that. But the easy way out is to buy puff pastry in your supermarket in the freezer section. Holmberg is amenable to using all the frozen brands but she gives you fair warning. The most common brand, whose name begins with P, is oil-based, not butter based. It's not real puff pastry and you'll be disappointed. I was. Find a frozen puff pastry made with butter. Or take the challenge and make your own. If you don't have a puff pastry pre-nuptial agreement, then go post-nup.
Suzen made this dish: salmon surrounded by puff pastry with a mushroom filling and rich butter lemon sauce. It's a Paris-class meal, whether you speak French or not. This dish is simply tear-evoking. And, while it is hearty enough to put on any winter table, it is also smoothly subtle enough to be the perfect meal for a summer weekend. Just serve smaller portions, add a side salad, and you have a classic meal that cannot be topped.
Puff is filled with recipes you will want to try. They sound and look elegant. They are surprisingly easy to make and rewarding in very bite.
Wild Salmon in Puff Pastry with Savory Mushroom Stuffing and Lemon-Caper Beurre Blanc
Yield: serves 4
Ingredients:
2 tablespoons olive oil
¼ cup minced shallot or onion
Kosher salt
2 cups cremini mushrooms, stems removed, chopped very fine
Freshly ground pepper
2 tablespoons crème fraiche or heavy cram
1 teaspoon lemon zest
2 tablespoons chopped fresh dill
2 tablespoons capers, drained and roughly chopped
1 sheet (about 9 ounces) frozen puff pastry
1 pound skinless center-cut salmon filler, about 1 inch thick, cut into 4 portions
1 large egg beaten
3 cups loosely packed mixed bitter salad greens
Lemon-Caper Beurre Blanc
Preparation:
Heat the oil over medium-high heat in a large skillet, add the shallots and a pinch of salt, and sauté until they are tender and fragrant, 2 to 3 minutes. Raise the heat to high, add the mushrooms, and season with salt and pepper.  Cook, stirring frequently with a wooden spoon or other tool that scrapes the pan nicely until the mushrooms have given off all their liquid, the liquid has cooked off, and the mushrooms are nicely brown, deeply flavored and quite dry, 7 to 9 minutes.
Take the pan from the heat, let the mushrooms cool for a few minutes, then stir in the crème fraiche , lemon zest, dill and capers. Taste and add salt and lots of pepper to taste — the stuffing should be highly seasoned. Chill in the fridge while you prepare the pastry and salmon.
On a lightly floured counter, roll out the pastry sheet to a 14-inch square. Cut the sheet into 4 7-inch squares. Season the salmon generously on both sides with salt and pepper.
Pile one quarter of the chilled mushroom stuffing on the center of one square of pastry. Set a piece of salmon on top of the stuffing. Moisten the edges of the pastry with a little water, then bring each corner to the center on top of the salmon, overlapping the edges a bit. Press firmly along the seams to make a tight, neat package. Try to press out any bulkiness where the pastry overlaps. Repeat with the other ingredients.
Line a baking sheet with parchment paper or foil and arrange the salmon bundles on it, seam side down. Brush the tops with the eggs wash, and cut a couple of slits on the top of the pastry so steam can escape. Chill for at least one hour or up to 24 hours, loosely covered with plastic wrap.
Heat the oven to 424°F. Bake the chilled salmon bundles until the pastry is deep golden brown and lightly puffed and salmon is cooked through (about 145°F on an instant –read thermometer, 23 to 28 minutes. Arrange each bundle on a dinner plate, whole or cut on an angle, with a pile of the greens next to it, if using. Drizzle the Lemon–Caper Beurre Blanc around the plate and serve immediately.
Lemon-Caper Beurre Blanc
Ingredients:
¼ cup fresh lemon juice
1 tablespoon minced shallots
2 teaspoons finely grated lemon zest
½ cup (1 stick) very cold unsalted butter, cut into ½-inch pieces
1 tablespoon capers, drained and chopped
1 tablespoon chopped fresh parsley
Freshly ground pepper
Kosher salt
Preparation:
Put the lemon juice and shallots in a small saucepan, bring to a simmer over medium-high heat, and cook until the liquid has reduced to about 2 tablespoons. Reduce the heat to low, add the lemon zest, and whisk in the butter chunks, one at a time. Keep the heat low so the butter emulsifies into a creamy sauce rather than melts and becomes oily. Add the capers and parsley and season to taste with pepper and possibly salt, though the capers make the sauce quite salty. Keep warm.
Source: Puff by Martha Holmberg