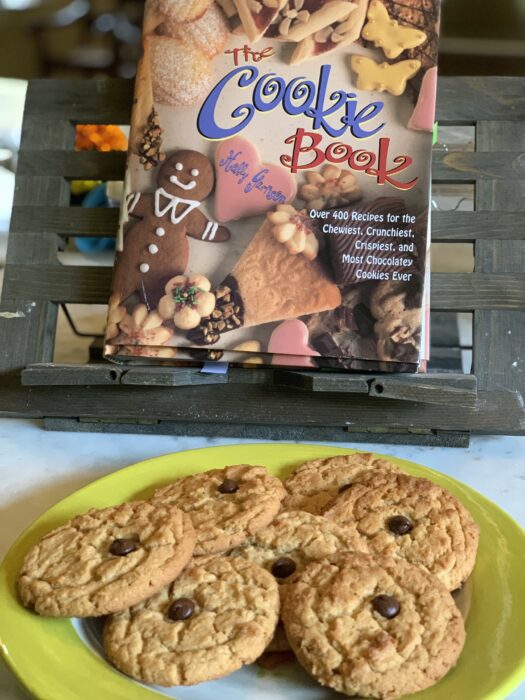 There is this book, The Cookie Book by Holly Garison, published in 1996 that Suzi and I still use. Weekly. I think I posted a review once, long ago, and I try to find that for you. But, as I said, we still turn to this book for ideas.
While she lives in Olive, NY upstate, Suzi still has Cooking by the Book hands-on cooking classes in Manhattan. It's a bit of a journey so you might expect, on days off, she's just watching the leaves fall. Well, not quite. Suzi bakes for Meals on Wheels in Woodstock, NY and she has a delivery of 60 cookies every Thursday. For almost two years, she has been relentless. Of course, 60 cookies is more than one batch in most recipes so she looks for recipes that are, of course, a delight to eat but also easy to batch up.
This peanut butter cookie comes with a chocolate drop on top instead of the usual crosshatching. Oh, why that crosshatching? Wikipedia says it was first mentioned in a recipe in the Schenectady Gazette, July 1, 1932. That's when and where. The why? We don't know, but it is the signature for peanut butter cookies.
So, Suzi's version with the chocolate chip on top will have to go down as an unsigned work of culinary art.
---
Arthur Schwartz's Fifties-Style Crips Peanut Butter Cookies
Yield: about 40 cookies depending on size
Ingredients:
2 ½ cups all-purpose flour
1 teaspoon baking powder
1 teaspoon baking soda
1 teaspoon salt
1 cup (2 sticks) salted butter or margarine, at room temperature
1 cup creamy or chunky peanut butter
1 cup granulated sugar
1 cup packed light or dark brown sugar
2 large eggs, lightly beaten
1 teaspoon vanilla extract
Chocolate chips, optional
Preparation:
Adjust two racks to divide the oven into thirds. Preheat the oven to 375°. Have ready two ungreased baking sheets.
In a medium-size bowl, with a whisk, combine the flour, baking powder, baking soda, and salt until thoroughly mixed.
In a large bowl, with an electric mixer at medium-high speed, beat together the butter and peanut butter until well blended and smooth, about 1 minute. Beat in the granulated sugar and
brown sugar until very well blended, 2 to 3 minutes. Beat in the eggs and vanilla until well combined. With the mixer at medium-low speed, gradually add the flour mixture, beating just
until blended.
Scoop tablespoon mounds of dough out of the bowl and roll them into 1-inch balls between the palms of your hands. [Not a big overflowing tablespoon, just a simple tablespoon!] As they are shaped, arrange the balls on the ungreased baking sheets, spacing them about 2 inches apart. With the tines of a fork, flatten each ball making a crisscross pattern on the dough. OR, just dot with a chocolate chip
Bake for about 12 minutes until lightly browned. Reverse the baking sheets on the racks and from front to back once during baking. With a wide turner, immediately transfer the cookies to wire racks to cool completely.
Store in a tightly covered container.
Source: The Cookie Book by Holly Garison