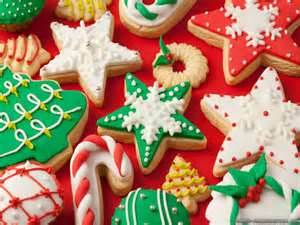 In just two days, there will be a flock of people in Suzen's kitchen doing a charity event. This group will cook a lot, a lot of food and eat some of it as their reward for an important event. But the real treat will be that that most of the food will be delivered to an important NYC charity called The Door.
The group will be cooking a complete meal and no meal is complete without dessert. Because we are in the midst of the holidays, it's holiday cookie time. The group will make about 300 cutout cookies.
While traditional sugar cookie dough can be used for cutout cookies, author Tish Boyle in The Good Cookie has created a dough specifically designed for cutouts. The cookies are soft [unless you cook to crispness which is not a sin] and full of buttery flavor.
A holiday or weekend afternoon with your kids or grandkids — with both cookies and kids covered in frosting — is a memory you will always hold dear.
Oh, how is this dough different from a more traditional sugar cookie dough? Tish's sugar cookie recipe calls for using some powdered sugar, much less flour, less egg, and less butter. It also uses baking powder which will give those cookies a bit of a rise. Here, you want flatter cookies which will be easier to decorate.
Basic Decorative Cookie Dough
Yield: 36 2-inch cookies
Ingredients:
3 ¼ cups all-purpose flour
¼ teaspoon salt
1 ½ cups [2 ½ sticks[ unsalted butter, softened
1 cup granulated sugar
1 large egg
1 large egg yolk
1 tablespoon vanilla extract
1 teaspoon finely grated orange zest
Preparation:
In a medium bowl, whisk together the flour and salt. Then set aside.
In the bowl of an electric mixer, using the paddle attachment, beat the butter and sugar at medium-high speed until light and creamy, about 2 minutes. Add the egg, egg yolk, vanilla, and orange zest. Mix until well blended. Reduce the speed to low and add the flour mixture one-third at a time, mixing just until combined. Turn the dough out onto a work surface and divide into 4 pieces. Shape each piece into a disk, wrap well in plastic wrap, and refrigerate for at least 30 minutes, until firm [or up to 2 days].
Position a rack in the center of the oven and preheat the oven to 350°F. Line two baking sheets with parchment paper.
On a lightly floured work surface, roll one of the dough disks out to a thickness of ⅛ inch. Using cookie cutters, cut the dough into shapes [save the scraps for rerolling]. Using a metal spatula, transfer the cookies to the prepared baking sheet, spacing them ½ inch apart. Bake, one sheet at a time, for 10 to 15 minutes, until pale golden brown [baking time will vary depending on the size and shape of the cookies]. Transfer the cookies to a cooling rack and cool completely. Repeat with the remaining dough.
Source: The Good Cookie by Tish Boyle