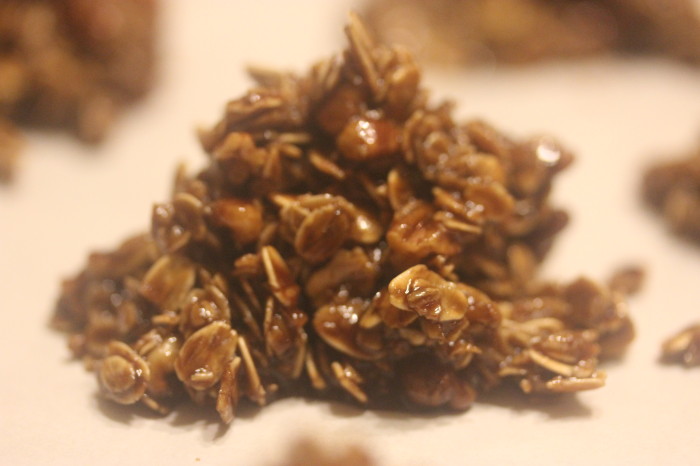 I've posted before a recipe called Nuni's No-Bake Cookies. Stashed in the middle of Cookie Time by Marilyn Miller Wasbotten, this recipe was one I remembered from childhood. I had lost the recipe but not the memories.
Once I had Cookie Time, I made and made these treats. But, I made just them. I would not deviate from the original recipe. I was tempted, but always paused and went vanilla. Well, chocolate and vanilla.
I finally summoned up the courage and played with the recipe. I credit Marilyn for inspiration but I'm going to take credit for this variation. To the original recipe, I add chopped pecans and espresso powder. The result? Well, take a look. It's richer with those coffee overtones so many of us love.
One slight caveat. When you make this and add espresso powder, there is clearly some chemical reaction. The boiling liquid that is mixed with the oats behaves differently. It takes longer for these cookies to set up. I'm going to continue experimenting, adding another 1/2 cup of oats. If these cookies seem "limpy" to you, find a cool space. Even your fridge for a few moments. Just to give the cookies a "cold shock." Once they do set up, they are smooth to the bite.  The only challenge is to stop with one, or two, or …
Brian's No-Bake Coffee Drops
Yield: about 40 cookies
Ingredients:
2 cups sugar
1/4 cup butter
1/4 cup cocoa
1/2 cup milk
2 tablespoons espresso powder
3 cups uncooked quick rolled oats
2 teaspoons vanilla extract
1 cup chopped pecans
Preparation:
Place the sugar, butter, cocoa, milk and espresso powder into a saucepan. Over medium-high heat, bring to a boil while stirring constantly. Boil for 1 minute.
In a large metal bowl, place the oats, vanilla and pecans. Pour the boiling sugar mixture over the oats. Stir to mix thoroughly. The mixture will begin but thicken as you do.
Drop by spoonfulls [a tablespoon in size] onto a cookie sheet lined with foil or parchment.
Source: Brian O'Rourke
Photo Information: Canon T2i with EFS 18-55 Maco lens at F/2.8 for 1/64th second at ISO 3200