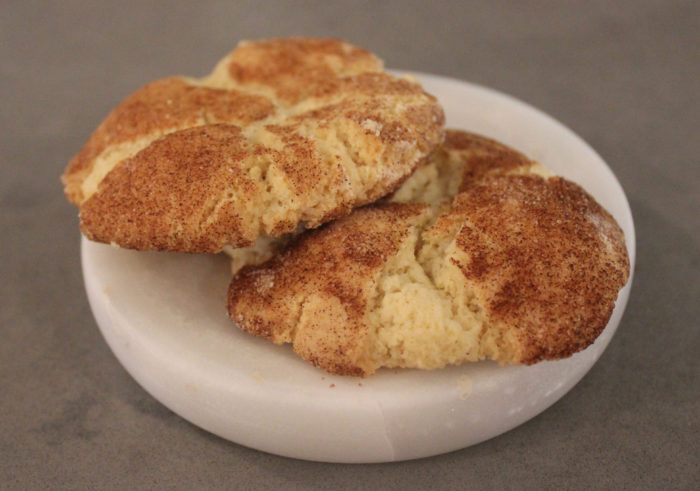 The name "snickerdoodle" probably is German, at least according to The Joy of Cooking. I can remember walking by bakeries in the 1950s with their doors open and aromas pouring out to the sidewalk. The pungency of the cinnamon from the snickerdoodles was always a dominant note that made walking into the bakery a mandatory act. Well, I took it as mandatory.
Besides the usual chocolate chip cookies and brownies, bakeries often had an abundant supply of big sugar cookies and these snickerdoodles. Snickerdoodles are not sugar cookies topped with cinnamon and certainly not in this version made with browned butter. Browning butter gives it flavor that people describe as "nutty." And it shines in this version from The Sprinkles Baking Book.
Yes, the recipe below is correct: 1 ½ tablespoons of vanilla. That means, use good vanilla!
You can make these snickerdoodles, freeze them, and secretly pull them out at 2AM without your spouse having a clue. As long as she is not weighing the zip lock bag each day.
---
Brown Butter Snickerdoodles
Yield: 16 large cookies
Ingredients:
♦ 1 (8-ounce) block French-style unsalted butter, such as Plugra, plus more for greasing
♦ 3 cups all-purpose flour
♦ 2 teaspoons cream of tartar
♦ 1 teaspoon baking soda
♦ ½ teaspoon fine sea salt
♦ 2 cups plus 2 tablespoons sugar
♦ 2 large eggs
♦ 1 ½ tablespoons pure vanilla extract
♦ 2 teaspoons ground cinnamon
Preparation:
Preheat the oven to 350°F. Lightly butter 2 rimmed baking sheets.
In a medium saucepan, melt the butter over medium heat until it begins to foam, 3 to 4 minutes. Swirl the butter around in the pan until it begins to brown lightly, smell nutty, and form tiny brown flecks, 3 to 4 minutes. Remove from the heat and cool.
In a medium bowl, combine the flour, cream of tartar, baking soda, and salt. In the bowl of a stand mixer fitted with the paddle attachment, beat the browned butter and 2 cups of the sugar on medium speed until light and fluffy, 2 to 3 minutes. Reduce the speed to low and beat in the eggs, one at a time, and the vanilla until just blended. Slowly add in the flour mixture and beat until just combined.
In a small, shallow bowl, combine the remaining 2 tablespoons sugar and the cinnamon.
Portion out 3 tablespoons of the dough at a time and form the dough into balls. Roll each ball in the cinnamon-sugar mixture and arrange the cookies on the baking sheets, five per sheet, spacing them at least 5 inches apart. Bake, rotating the sheets halfway through for even baking, until the edges are lightly browned and the centers of the cookies are set but still soft, 14 to 15 minutes for chewier cookies and 16 to 17 minutes for crispier cookies. Cool on the baking sheets for 5 minutes, then use a wide metal spatula to transfer the cookies to a wire rack to cool completely. Repeat with remaining dough.
---
Source: The Sprinkles Baking Book by Candace Nelson [Grand Central Life and Style, 2015]
Photo Information: Canon T2i, EFS 60mm Macro Lens, F/4 for 1/30th second at ISO 3200