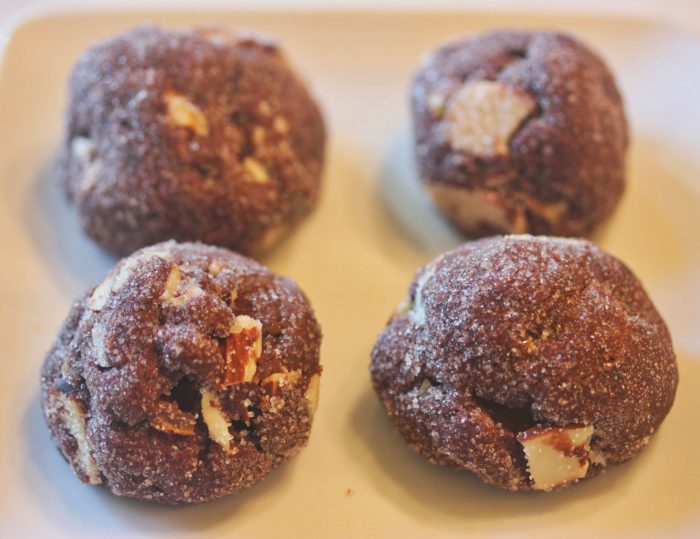 It is Christmas Eve. You still have time to leave cookies for Santa. This one is simple. And there is no egg. Santa has to watch his cholesterol, too.
This recipe comes from The Joy of Chocolate, which I did a TBT review for last week. It's lovely recipe, one ideal for kids who love to roll cookie dough in their hands.
---
Cocoa Balls
Yield: ~48
Ingredients:
2 sticks unsalted butter
⅔ cup confectioners' sugar, sifted after measuring
1 ¾ cups sifted all-purpose flour
½ teaspoon salt
6 tablespoons cocoa powder
Large pinch ground cinnamon
1 tablespoon vanilla extract
1 cup chopped blanched almonds, lightly toasted
½ cup of granulated sugar for rolling (optional)
2 ounces semisweet chocolate, melted (optional)
Preparation:
Preheat the oven to 325 degrees.
Cream together the butter and sugar. Sift in the flour, salt, cocoa and cinnamon. Add the vanilla and almonds and stir well. Shape dough into a ball.
To assure uniformity of size, divide the dough and cut it into four quarters, then cut each quarter into twelve pieces. Take up each large marble-sized portion of dough and roll it briefly between your palms until a perfect ball has formed.
If you want, roll each ball in granulated sugar before baking. Place the balls on an ungreased cookie sheet, leaving about ¾ inch between each cookie.
Bake for 12 to 14 minutes. The cookies should not brown on the bottom. Turn the tray if you have a known hot spot in your oven. The cookies will feel slightly soft still, but remove them from the tray to cool on a rack, where they will soon form a crisp exterior.
For a decorative touch, drizzle melted chocolate over.
---
Source: The Joy of Chocolate by Judith Olney [Barron's, 1982]
Photo Information: Canon T2i, EFS 60mm Macro Lens, F/2.8 for 1/80th second at ISO‑640