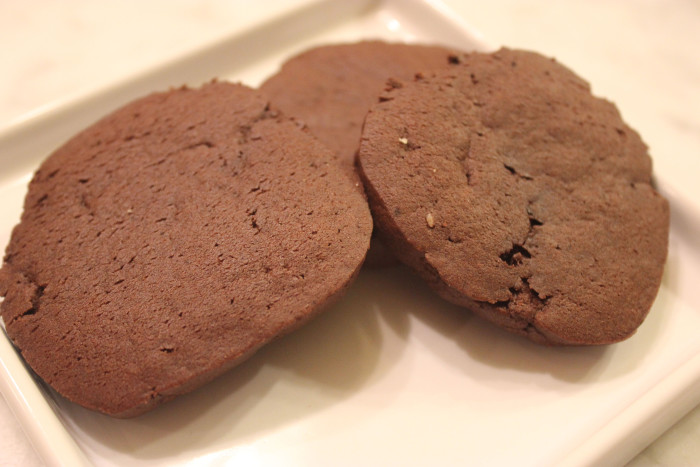 When I want a good cookie, I make it. Packaged cookies in the store can be okay, but they are often hard, rock hard. They have to be to survive a truck journey of hundreds of miles from factory — not bakery — to your store shelves. If those cookies were delicate, you'd end up buying crumbs.
These cookies are soft, a little chewy, and so delicate in flavor. They are made with cocoa, not chocolate, so they have the cocoa-back-of-the-mouth flavor that lingers with delicacy. And there's the mint. You can use the suggested peppermint extract or just mint or try spearmint. Just don't use too much. You want the mint and cocoa to marry happily without mint dominance.
These are refrigerator cookies, my favorite type. There is something so pleasurable about making dough then having to wait for it to chill. Of course, to compensate, as soon as they come out of the oven, they are headed for your mouth.
These cookies are from The Complete Cookie, a gem of a cookbook I reviewed last Thursday.
---
Cocoa Mint Crisps

Yield: about 40, depending on how you roll and slice

Ingredients:

2 ½ cups all-purpose flour
½ cup plus 2 tablespoons unsweetened Dutch-processed cocoa powder
1 teaspoon baking soda
1 teaspoon cream of tartar
¾ cup [1 ½ sticks] unsalted butter, at room temperature
1 cup confectioners' sugar
2 large eggs
1 teaspoon peppermint extract
Preparation:

Combine the flour, cocoa powder, baking soda, and cream of tartar in a bowl. Whisk thoroughly until incorporated.
In a large mixing bowl, cream the butter and sugar with an electric mixer set at low speed. At medium speed, beat in the eggs and peppermint. Add the dry ingredients and mix thoroughly at medium.
Turn the dough out onto wax paper. Roll into a 10-by-2-inch log and wrap in the paper. Refrigerate for at least 1 hour.
Preheat the oven to 375 degrees.
Slice the log into ⅛-inch rounds and place on ungreased cookie sheets. Bake for about 6 minutes, until the cookies are firm to the touch and beginning to crack around the edge.
Transfer to wire racks to cool.
---
Source: The Complete Cookie by Barry Bluestein and Kevin Morrissey [Clarkson Potter, 1996]

Photo Information: Canon T2i, EFS 60mm Macro Lens, F/4.5 for 1/60th second at ISO‑2000