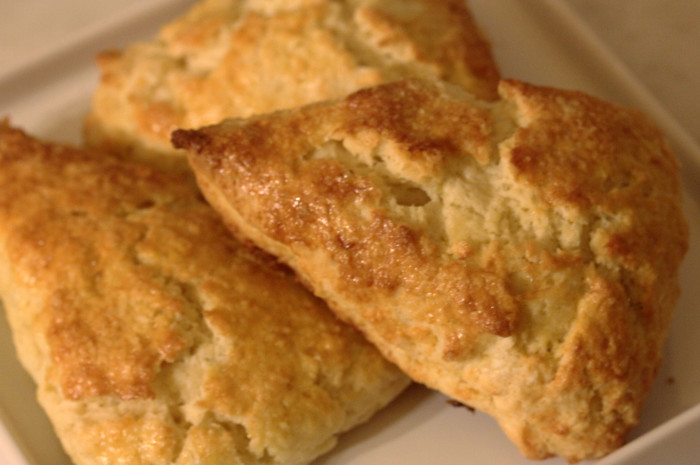 I recently blogged Sweet by Valerie Gordon, describing the book as a "goldilocks" gift. That ideal baking book that is not too simple, not too complex, but is just right. Just right for you to succeed and create wonderful baked goods [and candy, too!].
Before we blog a book, Suzen and I do more than just read. We test. And we don't test the most complicated recipe. We pick something interesting and basic, something like a scone. Because of a book can't give you a good scone, that great cake on page 75 just might not work out. We want to know that the recipes are true, tested, and geared for the home cook.
So, on a Sunday morning, I prepared coffee and in just about the same time Suzen threw together this lovely, lively scone recipe. It bakes beautifully as the picture shows. It tastes of delightful tartness: crème fraiche and lemon juice and lemon zest all are present to give your Sunday morning a bolting start. These rich scones do not need butter and they surely do not need jam or honey. They are completely self-sufficient.
If you love scones, then here is one with grand taste.
And, with this success, you can proceed with confidence. The recipes in Sweet are well written, well tested, and certainly well enjoyed.
Crème Fraiche Scone
Yield: 12 scones
Ingredients:
2 cups (10 ounces) all-purpose flour
⅓ cup (2.33 ounces) sugar, plus extra for sprinkling
2 teaspoons baking powder
½ teaspoon kosher salt
5 tablespoons (2.5 ounces) unsalted butter, cut into cubes and chilled
1 cup (8 ounces) crème fraiche
2 large eggs
1 tablespoon grated lemon zest
1 tablespoon fresh lemon juice
Preparation:
Position a rack in the center of the oven and heat the oven to 375°F. Line a 13-by-l8-by-1-inch baking sheet with parchment paper or a silicone liner.
Sift together the flour, sugar, baking powder, and salt into a medium bowl. Cut in the butter with a pastry cutter until the butter is in pea-sized pieces, about 4 minutes.
Whisk together the crème fraiche, 1 egg, the lemon zest, and juice in a small bowl, then fold into the flour mixture until just combined; do no over mix—you want to see bits of butter in the dough.
Transfer the dough to a lightly floured cool work surface. Use a rolling pin to roll out the dough very gently until it is ¾ inch thick; be careful not to overwork the dough. Using a 3-inch round cookie cutter, cut out scones and place them 2 inches apart on the prepared baking sheet. Gather the dough scraps together, reroll, and cut out more scones.
Whisk the remaining egg in a small bowl. Using a pastry brush, lightly brush the tops of the scones with the egg. Sprinkle with sugar.
Bake for 15 minutes, or until the scones are lightly golden. Transfer the scones to a cooling rack and cool completely.
Source: Sweet by Valerie Gordon
Photo Information: Canon T2i, EFS 60MM Macro Lens, F/5.6, 1/20th second, ISO-2500