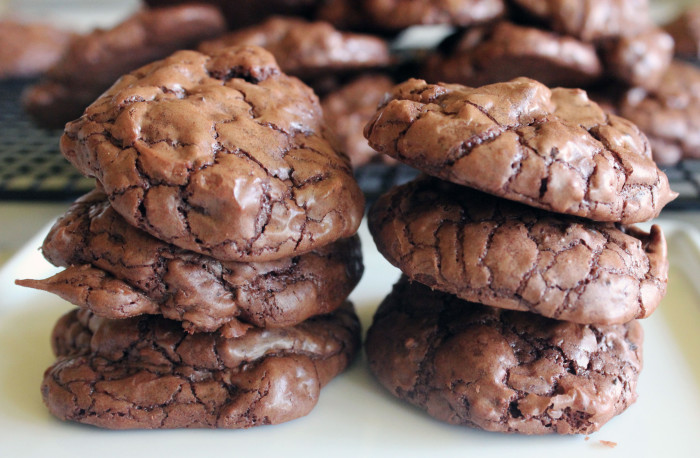 The word "gooey" is increasing popular. If you use the Google Ngram app, you can track a history of word usage all the way back to 1800. Gooey did not appear at all until about 1900. Usage crept up to 1940, leveled until the early 1960's and now doubles every 10 years or so. People are into gooey.
And people like chocolate and the chocolate/mocha combo appears on almost every cooking website. So what could be better than a cookie that is gooey, chocolate – actually double-chocolate, and touched with mocha?
If you ever again have to pull an all-nighter and wonder how on earth you can do it, then these cookies will mean [1] you don't need a drug dealer and [2] you might actually get through two nights in a row.
And, they taste good. The recipe is from Theo Chocolate, the new chocolate inspired cookbook from Seattle's Theo chocolate company. Great book, great chocolate, and a true comfort food recipe.
---
Gooey Double-Chocolate Mocha Cookies

Yield: about 24 cookies [depending on how much batter you taste test]

Ingredients:

10 ounces Theo 70 percent dark chocolate, chopped, divided, or other high quality chocolate
¼ cup [½ stick] unsalted butter
⅓ cup (1 ½ ounces) all-purpose flour
¼ teaspoon kosher salt
¼ teaspoon baking powder
1 tablespoon finely ground Fair Trade coffee beans
2 eggs, at room temperature
¾ cup (5 ½ ounces) sugar
1 teaspoon vanilla extract
1 cup chopped walnuts, optional
Preparation:

Preheat the oven to 350 degrees F. Line 2 baking sheets with parchment paper and set aside.
Melt 7 ounces of the chocolate with the butter in a double boiler and set aside to cool slightly.
Sift the flour, salt, and baking powder together into a small bowl, stir in the coffee, and set the bowl aside.
In the bowl of a stand mixer fitted with the whisk attachment (or in a bowl with a whisk by hand), whip the eggs and sugar together on medium speed until very thick and pale, 3 to 4 minutes (about 8 minutes by hand). Add the vanilla and mix well. Fold in the cooled chocolate mixture, then the dry ingredients, and finally the remaining 3 ounces chopped chocolate and the walnuts.
Use 2 spoons or a small cookie scoop to drop rounded tablespoons of batter 2 inches apart onto the prepared baking sheets. Bake the cookies, one sheet at a time, until they're puffed, shiny, and cracked, 8 to 10 minutes. Let the cookies cool completely on the baking sheet—they will be very fragile.
---
Source: Theo Chocolate by Debra Music, Joe Whinney and Leora Bloom

Photo Information: Canon T2i, EFS 60mm Macro Lens, F/5.6 for1/30th second at ISO‑3200