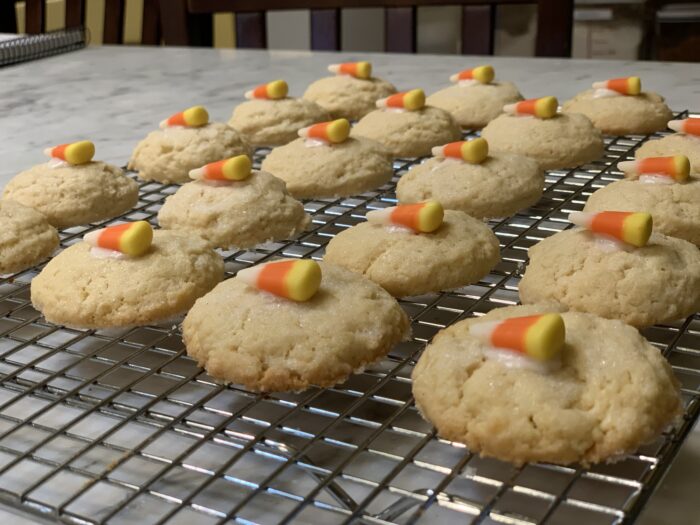 It's Halloween and, one way or another, you are likely to have a new mound of candy sitting in your kitchen tomorrow morning. What do with it all? Besides eating it directly.
I bet you'll have some candy corn, that delicious symbol of fall and surely of this holiday. Suzi has found a way to marry candy corn with a magnificent cookie.
This sugar cookie comes from Simply Sensational Cookies by Nancy Bagget, a simply sensational source for cookie wonders. The cookie recipe is below. To put that candy corn on top does require an additional step.
No, you can't put the candy corn on top of the cookie dough and bake. The corn will melt and wilted corn is not appealing.
Instead, let the cookies cool. Then make a "glue" of one cup of powdered sugar mixed with enough heavy cream to give a "glueish" texture. Put a small dab on top of each cookie – you are gluing and not frosting. Then press the candy corn down and you are all set.
You may, may, find yourself with leftover glue. While you can refrigerate the glue, I really don't have space in my fridge and I need to clean everything up. Instead you can just lick your spatula. And the bowl.
I did.
---
Sweet and Simple Sugar Cookies
Yield: 40 2 ½ -inch cookies
Ingredients:
1 cup (2 sticks) unsalted butter, slightly softened and cut into chunks
½ cup granulated sugar, plus¼ cup for garnish
1 large egg, at room temperature
2 teaspoons vanilla extract
½ teaspoon salt
2 cups plus 2 tablespoons unbleached all-purpose white flour, plus more if needed
Preparation:
Position a rack in the middle of the oven; preheat to 350°F. Grease several large baking sheets or coat with nonstick spray.
In a large bowl, vigorously beat together the butter and ½ cup sugar until well blended and smooth. Add the egg, vanilla, and salt to the bowl; beat for 2 minutes or until the mixture is lightened in color and texture. Scrape down the sides as needed. Beat or stir in the flour just until evenly incorporated. Let stand to firm up for 5 minutes if too soft to shape. If the dough is still soft, work in up to 11/2 tablespoons more flour.
With well-greased hands, pull off dough portions and shape into scant 1-inch balls. (Alternatively, scoop up balls of dough using a 1¼-inch diameter spring-loaded scoop.) Space them about 2½ inches apart on the baking sheets. Grease the bottom of a large flat-bottomed glass and dip it into the ¼ cup sugar. Press down on a ball to flatten it into a scant 2¼-to 21/2-inch, evenly thick round. Repeat, dipping the glass in the sugar, then flattening the balls. As needed, wipe excess sugar from the glass and re-grease the surface.
Bake (middle rack) one sheet at a time for 8 to 12 minutes or until the cookies are lightly tinged at the edges. Transfer the baking sheets to wire racks; let stand until the cookies firm up slightly, about 4 minutes. Using a wide spatula, transfer the cookies to the wire racks. Let cool.
Source: Simply Sensational Cookies by Nancy Bagget [2013]
---