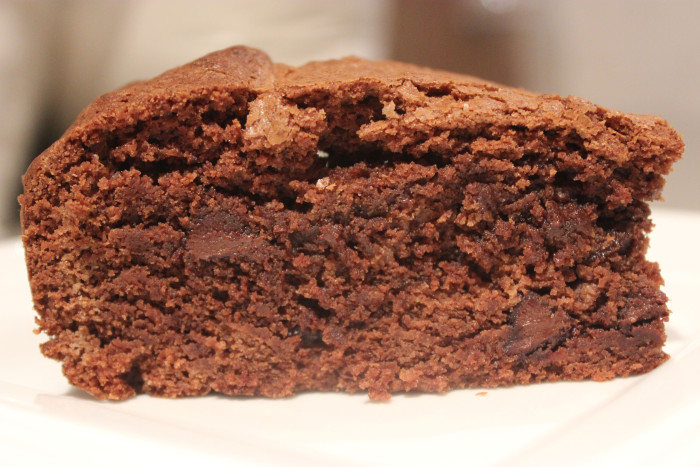 "I need a brownie recipe. For the bake sale." Suzen was not yet frustrated, but she was getting there.
A few times each semester, the wonderful kids from the Culinary Club at Hunter High School for Mathematics and Science in New York City come to Cooking by the Book for a few hours of dedicated cooking. Usually they make a meal they share on the spot. But tomorrow, it's Bake Sale Day and the kids will be here at 8AM to make things to be sold later in the day to parents and teachers. They'll have to make treats here in Tribeca, package them up for sale, and then transport the collection up to Lincoln Center. That will be an aromatic subway train.
Suzen wants a brownie, but it has to be one that cools relatively quickly and that cuts gracefully. A sticky or fudgy brownie may just prove too difficult to cool, cut and package, and then subway on the kids' schedule.
"Cake brownie, obviously" I said. I'm a modest guy, sometimes, but I am definitely a brownie maven. I knew just where to turn: Best-Ever Brownies by Joan Steuer and Rick Rodgers. It's a slim paperback from 1990 and I will make it the subject of tomorrow's Throwback Thursday Cookbook Review.
This cake brownie is credited to prolific author Irena Chalmers who named these Hollywood Brownies because they are always the stars of her dessert table. One bite and you'll understand. The picture understates the chocolate magnificence this recipe offers.
The recipe calls for an optional cup of nuts. Naturally, Suzen changed that. Her chocolate addiction is nearing the point of intervention. We added a cup of chocolate chips and you can see that melted chip layer in the photo above. We did, of course, test the recipe in advance: you know, trust but verify.
If it were me, I'd do the chips and the nuts. Actually, if it were me, I'd frost these things. Lots of good frosting recipes in the Best-Ever Brownies by the way.
I actually suggested frosting to Suzen.
"Are you nuts?"she responded.
Actually, I am. But this time, no frosting. Ah, well, tomorrow is another day. I heard that somewhere, too.
---
Irena's Hollywood Brownies

Yield: makes 16 brownies

Ingredients:

11 tablespoons (1 stick plus 3 tablespoons) unsalted butter, cut into pieces
5 ounces unsweetened chocolate, finely chopped
4 large eggs, at room temperature
1 cup granulated sugar
1 cup packed light brown sugar
2 teaspoons vanilla extract
2 cups sifted all-purpose flour
2 teaspoons baking powder
1 teaspoon salt
4 ounces walnuts or pecans, coarsely chopped (about 1 cup, optional)
Preparation:

Position a rack in the center of the oven and preheat to 350°F. Lightly butter a 9-inch square baking pan.
In a medium saucepan over low heat, melt butter. Off heat, add chocolate and let stand 1 minute; whisk until smooth. Cool 10 minutes, until tepid.
In a medium bowl, using a hand-held electric mixer set at high speed, beat eggs for 2 to 3 minutes, until pale yellow and thickened. Add both sugars and vanilla and beat until well combined. Beat in melted chocolate. Add flour, baking powder, and salt, and beat just until combined. Using a wooden spoon, stir in nuts, if desired.
Spread batter evenly into prepared pan and bake 35 to 45 minutes, until a toothpick inserted in the center comes out clean. Cool completely on a wire cake rack.
Photo Information [top picture]: Canon T2i, EFS 60 mm Macro Lens, F/4.5 for 1/60th second at ISO‑2500