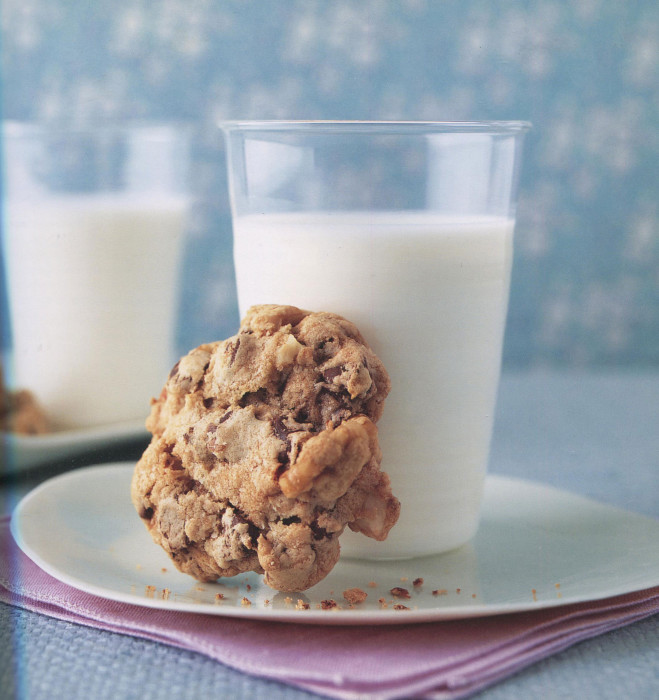 Yesterday I did a TBT review of The Essential Chocolate Chip Cookbook. This is the very first recipe in the book. And this recipe is reason enough to buy the book. Elinor says the cookie dough is barely sufficient to hold together the chips, pecans, walnuts and almonds. See? Kitchen sink.
Whenever we want a decadent, totally decadent, chocolate chip cookie, we turn to this one. Actually, Elinor says you can double down on the decadence: add dried cranberries or other chopped dried fruit like apricots or raisins. Once you go down the path of "everything" then everything it is.
---
Kitchen-Sink Chocolate Chip Cookies

Yield: 36 if you don't eat the batter before baking, which you will

Ingredients:

1 cup plus 2 tablespoons unbleached all-purpose flour
¾ teaspoon baking soda
½ teaspoon salt
½ cup [1 stick] unsalted butter, at room temperature
½ cup packed light brown sugar
6 tablespoons granulated sugar
1 large egg
1 ½ teaspoons vanilla extract
3 cups [18 ounces] semisweet chocolate chips
1 cup [4 ounces] pecan halves
1 cup [4 ounces] walnut halves or large pieces
1 cup [4 ounces) blanched whole almonds, toasted and chopped roughly in half
Preparation:

Position a rack in the middle of the oven. Preheat the oven to 350° F. Line 2 or 3 baking sheets with parchment paper.
Sift the flour, baking soda, and salt into a medium bowl and set aside.
In a large bowl, using an electric mixer on medium speed, beat the butter, brown sugar, and granulated sugar until smoothly blended, about 1 minute. Stop the mixer and scrape the sides of the bowl as needed during mixing. Add the egg and vanilla and mix until blended, about 1 minute.
The mixture may look slightly curdled. On low speed, add the flour mixture, mixing just until it is incorporated. Mix in the chocolate chips, pecans, walnuts, and almonds until evenly distributed.
Use a tablespoon to drop well- rounded tablespoonfuls of dough (about 2 tablespoons each) onto the prepared baking sheets, spacing the cookies 2 inches apart.
Bake the cookies one sheet at a time until the edges are lightly browned and the centers are just slightly colored, about 14 minutes. Cool the cookies on the baking sheets for 10 minutes, then use a wide metal spatula to transfer the cookies to a wire rack to cool completely.
The cookies can be stored in a tightly covered container at room temperature for up to 4 days.
Choices: You can add 1 cup of raisins, dried cranberries, or chopped dried apricots to the dough with the chips and nuts. White, bittersweet, or milk chocolate chips, or a combination, can be substituted for the semisweet chips.
---
Source: The Essential Chocolate Chip Cookbook by Elinor Klivans [Chronicle, 2008]