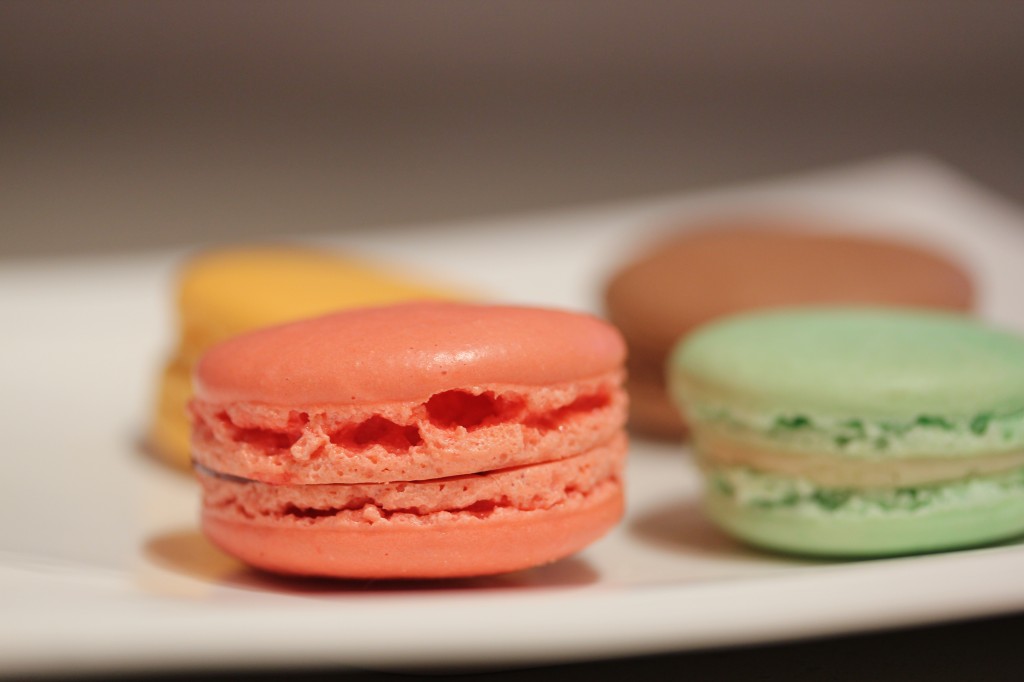 It's spring, which is sufficient excuse to make some macarons. Yes, I can give you a reason from every season for making these delights. But spring, with its spectrum of a thousand shades of green and other noble colors, is a spectacular time for macaron treats.
There have been several posts on this blogs about macarons, both how to make them and surveys of the best in macaron books. From all of that experience, I've gleaned some insights for baking macarons: from starting with eggs white, to baking the shells, to making the filling, and on to storage.
Some of you may have seen books with 10 or 20 or more steps for successful macrons. I truly agree that "complexity" is real, based on my own experiences [both good and sad]. A macron looks and tastes perfect only if many steps have been followed. And followed in the right order at the right pace. Making macarons is not something you can say, "I'm doing a batch now!" It takes a few days of effort, particularly for those egg whites.
So, today, let's have some getting started tips for making macarons. This post is not about a recipe. It is about general principles that really need to be followed for any macaron recipe. You want macaron perfection? Please read on!
There Are Days to Macaron and Days Not to Macaron
Beating egg whites to achieve a meringue is best done in a dry environment. If you live in Arizona, you are in luck almost every day. If you live in New Orleans, you have a challenge. Humidity is your enemy.
Freshness Is not Your Friend Either
Fresh egg whites are lovely. And wet. Reducing the amount of water in the egg whites will make the process of beating into a meringue far, far easier. There are a couple of techniques used here. One, put the egg whites in the refrigerator for up to a week, covered with plastic wrap with some holes punched in the top. Two, microwave the egg whites for about 10 seconds to "age" and to dry them.
Before Beating Your Egg Whites
Let them come to room temperature. Going from liquid whites to that rich ivory elegance of meringue is a major chemical process. Temperature is your friend to make that meringue appear gracefully.
Clean the Bowl Before Beating
Any oil in the bowl can making beating the eggs white harder. Or, as I once discovered, impossible. If you are cracking eggs, do it one egg at a time into a separate bowl to avoid contamination from yolk pieces that come along for the ride. If you get some yolk in that one-egg-at-a-time bowl, then toss that bowl and move on. No choice here.
How Do You Known When to Stop Beating the Egg Whites
Turn off your mixer. Pull the mixing bowl. Carefully turn it over. A proper meringue will just sit quietly in the bowl, no slipping, sliding, or plopping. You DON'T want to overbeat the meringue, for then your macrons will demonstrate dryness and cracking. You'll need to experiment and to recognize that every baking session is unique: the temperature, the humidity, and the quality of the eggs all play key factors.
Coloring the Batter
Standard liquid food coloring has chemicals that can disturb beaten egg whites. So, to color the meringue, use either gel, powder, or paste. Use a toothpick to add just little touches of color. You'll be amazed at how much color these professional products can produce. If you use too much, say blue, you'll have Van Gogh blue batter. You'll scream, your hands will reach to your ears, you'll recall that art history class, and then you'll scream more.
Remember: you can always darken a little more, but you can't undarken.
And Take Care with Chocolate
Overbeating when cocoa is in the batter can release oils which also can affect the meringue. It is better to "undermix" and leave some streaks than to risk this oil problem. If the resulting macarons are not a solid color but have "streaks" then you can boast about your "arty macaron" techniques. Remember what Julia Child said as she picked up the chicken off the floor: never apologize.
Good luck! More to come soon about baking the shells and then storing your macarons.
Sources: Macarons by Pierre Herme and The Little Book of Macaroon Tips by Meg Avent