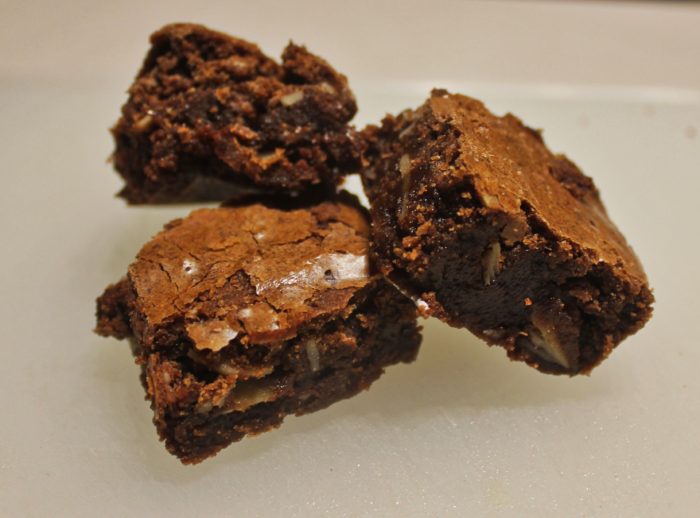 This weekend I'll post a review for a grand new cookie book, The Perfect Cookie by America's Test Kitchen. Suzi and I have made four recipes so far and had four great successes.
There's an entire section devoted just to brownies and this gem is the leader of the pack. It is, I admit, supposed to be topped with melted marshmallow cream and melted chocolate. I didn't the patience to try. I just want to cut the warm brownies and begin eating. These are dense and totally chocolate. The chocolate power comes from a double dose: bittersweet plus cocoa powder. The recipe calls for pecans, but I had a bag of slivered almonds ready to go.
This recipe gives a big batch: 13" by 8" instead of 8" by 8". I'm sorry. You'll just have to grin and eat them.
Yes, you can make more. And you will. Maybe even with that marshmallow topping.
The team at America's Test Kitchen are passionate: make any brownie the old-fashioned way by hand stirring. Don't use a mixer. Brownies are very sensitive.
---
Mississippi Mud Brownies
Yield: 24 or how you cut them
Ingredients:
6 ounces unsweetened chocolate, chopped
16 tablespoons unsalted butter [yes, a full half pound of butter]
1 ½ cups all-purpose flour
⅓ cup Dutch-processed cocoa powder
½ teaspoon salt
3 cups sugar
5 large eggs
¾ cup pecans, chopped.
Preparation:
For the brownies Adjust oven rack to middle position and at oven to 325 degrees. Make a foil sling for 13 by 9-inch long pan by folding 2 long sheets of aluminum foil; first set should be 13 inches wide and second sheet should be 9 inches wide. Lay sheets of foil in pan perpendicular to each other, with extra foil hanging over edges of pan. Push foil into comers and up sides of pan, smoothing foil flush to pan. Grease foil.
Melt chocolate and butter in large bowl set over medium saucepan filled with ½ inch of barely simmering water (don't let the bowl touch the water), stirring occasionally, until smooth, 7 minutes; let cool slightly. Whisk flour, cocoa, and salt her in bowl. Whisk sugar and eggs in second bowl until Brined. Whisk chocolate mixture into sugar mixture until smooth. Using a rubber spatula, stir flour mixture into chocolate mixture until no streaks of flour remain. Fold in the pecans. Transfer batter to prepared pan and smooth top.
Bake brownies until toothpick inserted in center comes out with few moist crumbs attached, about 35 minutes. Transfer pan to wire rack.
For the topping, using a spoon, dollop marshmallow creme over hot brownies and let sit until softened, about 1 minute. Meanwhile, microwave chocolate chips and oil in small bowl until smooth, 30 to 60 seconds. Spread marshmallow creme evenly over brownies, then drizzle with chocolate. Let brownies cool completely in pan, about 2 hours. Using foil overhang, remove brownies from pan. Cut into 24 pieces before serving.
---
Source: The Perfect Cookie by America's Test Kitchen [America's Test Kitchen, 2017]
Photo Information: Canon T2i, EFS 60mm Macro Lens, F/3.5 for 1/40th second at ISO‑125