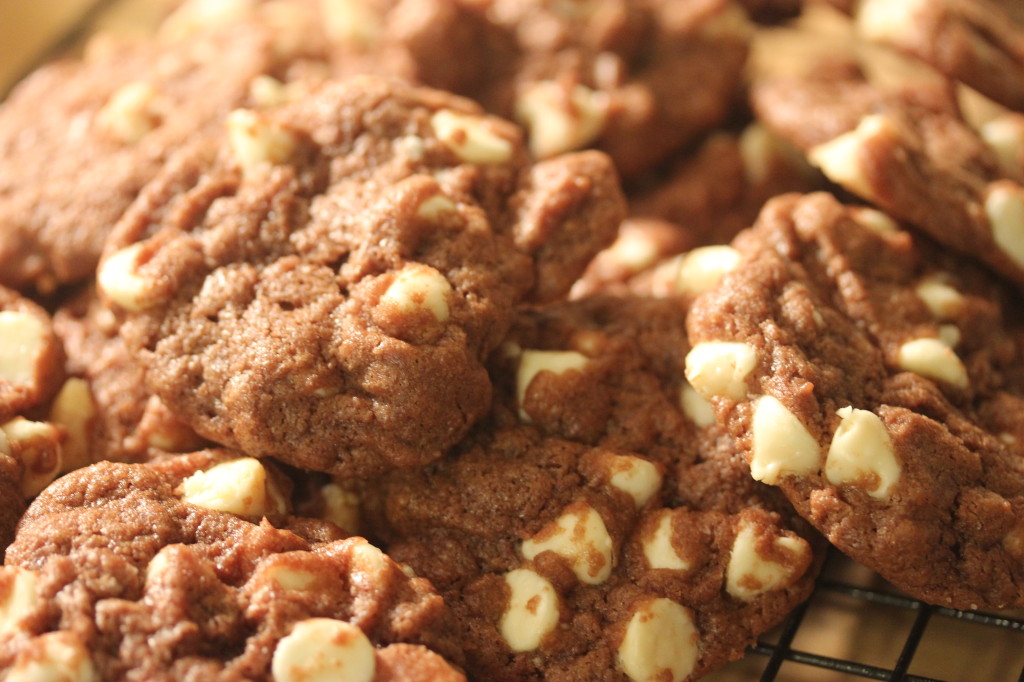 Simply Sensational Cookies by Nancy Baggett is just chuck full of ideas you have to try. Have to. What kind of dessert person are you? Honor that addiction. Show some pride. And, get some variety in to boot!
Mocha is flavor many of us relish or need. Witness those lines at Starbucks each morning. Mocha and chocolate requires some finesse. It turns out, that it is white chocolate that is best married to mocha.
These cookies are rapidly created in one bowl using the microwave for some initial heating and mixing. It's the perfect last-minute dessert or a way to fend off the kids in the afternoon. Give them the recipe and let them learn how to use the microwave. The cookies are fool proof, the batter is delicious, and the memories of these gems will linger a long, long time.
One-Bowl Mocha White Chocolate Chip Cookies
Yield: about 30 2 ½-inch cookies
Ingredients:
¾ cup [1 ½ sticks] unsalted butter cut into chunks
2 ½ ounces unsweetened chocolate, coarsely broken up or chopped
1 cup granulated sugar
1 tablespoon instant espresso powder dissolved in 1 tablespoon warm water
1 large egg, at room temperature
2 teaspoons vanilla extract
1 teaspoon vanilla extract
1 teaspoon baking powder
⅓ teaspoon salt
1 ½ cu unbleached all-purpose white flour, plus more if needed
10-11 ounces of white chocolate morsels
Preparation:
Position a rack in the middle of the oven; preheat to 350°F. Grease several baking sheets or coat with nonstick spray; or line them with baking parchment.
In a large microwave-safe bowl with the microwave on 50 percent power, melt the butter and chocolate just until mostly melted, stopping and stirring every 30 seconds. Then vigorously stir until the butter and chocolate completely melt. Thoroughly stir in the sugar and espresso-water mixture. Let cool till warm. Vigorously stir in the egg, vanilla, baking powder, and salt until the mixture is well blended and smooth. Stir in the flour and white chocolate morsels just until evenly incorporated. If the dough is slightly soft, let stand to firm up for 5 to 10 minutes. Stir in 1 tablespoon more flour to stiffen the dough more, if necessary.
Using a 1"-inch-diameter spring-loaded ice cream scoop or heaping soupspoon, drop the dough into mounds about 2 ½inches apart on the baking sheets. Bake (middle rack) one sheet at a time for 9 to 12 minutes, until the cookies are lightly tinged with brown and not quite firm when pressed in the middle.
Let stand until the cookies firm up just slightly, about 2 minutes. Using a wide spatula, transfer the cookies to wire racks. Cool completely. Cool the baking sheets between batches or the cookies may spread too much.
Source: Simply Sensational Cookies by Nancy Baggett