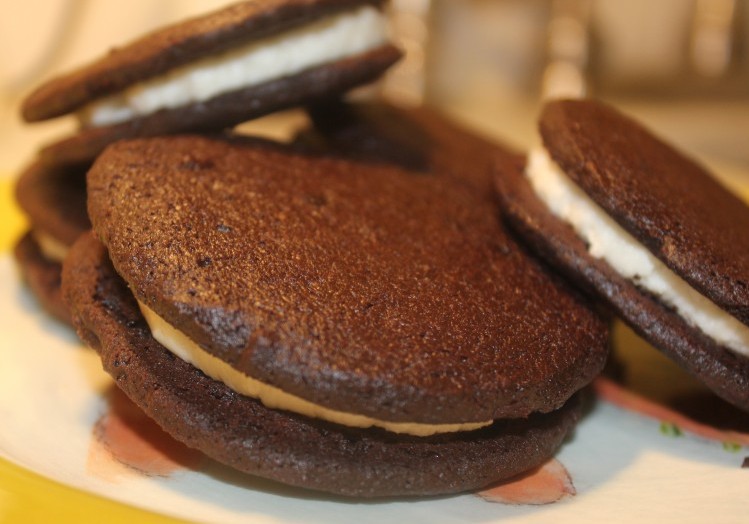 One hundred years ago, in a factory building on the Lower West Side of Manhattan [16th Street], the first Oreo was created. America's favorite cookie has spread far and wide across this planet.
Rivals do appear in stores, but I've never found anything to match an Oreo there — my apologies to you Hydrox fans out there but that dryness is too much for me.
On the home front, countless cooks have tried to go one up on the Oreo. Here is a challenge from Flour that radically succeeds. No, I do not think it's actually that close to an Oreo. The chocolate wafers are more like those classic Nabisco Chocolate Wafers than the Oreos halves.
The filling here is oh so good. No margarine here. No Crisco. No chemically things at all. This filling is good enough to make and eat on its own. Not that I would ever consider doing that. [Although I do have this syndrome where occasionally I both sleep walk and cook which might explain … And, further in my defense, this filling can just sit out on the counter for two days. Now, what do you expect me to do for that amount of time?]
This is a fun-filled cookie to make at home. Kids will love to spoon the filling on the bottom wafer, then put a wafer on top and gently apply pressure to create the "perfect" sandwich. Of course, your kids will have to clean their fingers occasionally. You should just smile and encourage them to take licks over every knuckle.
New Oreos
Yield: 16-18 sandwich cookies
Ingredients:
For the cookies:
1 cup (2 sticks/228 grams) unsalted butter, melted and cooled slightly
¾ cup (150 grams) granulated sugar
1 teaspoon vanilla extract
1 cup (200 grams) semisweet chocolate chips, melted and cooled slightly
1 egg
1 ½ cups (210 grams) unbleached all-purpose flour
¾ cup (90 grams) Dutch-processed cocoa powder
1 teaspoon kosher salt
½ teaspoon baking soda
For the filling:
½ cup (1 stick/114 grams) unsalted butter, softened
1 ⅔ cups (230 grams) confectioners' sugar
1 teaspoon vanilla extract
1 tablespoon milk
Pinch of kosher salt
Preparation:
In a medium bowl, whisk together the butter and granulated sugar until well combined. Whisk in the vanilla and chocolate. Add the egg and whisk until thoroughly incorporated.
In another medium bowl, stir together the flour, cocoa powder, salt, and baking soda until well mixed. Using a wooden spoon, stir the flour mixture into the chocolate mixture. The dough will start to seem too floury, and you will find it easiest to switch to mix it with your hands until it comes together. It will have the consistency of Play-Doh. Let the dough sit at room temperature for about 1 hour to firm up.
Transfer the dough to a 15-inch square sheet of parchment or waxed paper. Using your hands, shape the dough into a rough log about 10 inches long and 2 ½ inches in diameter. Place the log at the edge of the sheet of parchment paper, and roll the parchment around the log. With the log fully encased in parchment, roll it into a smoother log, keeping it at 2 ½  inches in diameter. Refrigerate for at least 2 hours, or until firm. The log may settle and sink a bit in the fridge, so reroll it every 15 minutes or so to maintain a nice round log. (At this point, the dough log can be well wrapped in plastic wrap and stored in the refrigerator for up to 1 week or in the freezer for up to 1 month. If the dough is frozen, thaw it overnight in the refrigerator before proceeding.)
Position a rack in the center of the oven, and heat the oven to 325 degrees F. Butter a baking sheet or line it with parchment paper.
Cut the dough log into ¼-inch-thick slices. Place the slices about 1 inch apart on the prepared baking sheet. [The slices do spread a bit. It's easier if you make them about ⅓ inch thick!]
Bake for 20 to 25 minutes, or until the cookies are firm to the touch. Check them frequently after 16 or 17 minutes, poking them in the middle. As soon as they feel firm to the touch, remove them from the oven. You can't judge by color because they start out black. Let cool on the baking sheet to warm or room temperature. They don't have to cool completely before you fill them, but you can't fill them while they are hot.
To make the filling: While the cookies are cooling, using a stand mixer fitted with the paddle attachment (or a handheld mixer), beat the butter on low speed for about 30 seconds, or until completely smooth and soft. Add the confectioners' sugar and vanilla and beat until the mixture is perfectly smooth. Add the milk and salt and again beat until smooth. It will look like white spackle and feel about the same—like putty.
You can also mix this filling by hand. Make sure the butter is very soft, and use your hands to mix and knead the sugar into the butter. You should have about 1 cup. (The filling can be stored in an airtight container at room temperature for up to 2 days or the refrigerator for up to 2 weeks. Bring to room temperature before using.)
Scoop about 1 rounded tablespoon of the filling onto the bottom of one cookie. Top with a second cookie, bottom-side down, then press the cookies together to spread the filling toward the edges.
Repeat until all of the cookies are filled.
Source: Flour by Joanne Chang